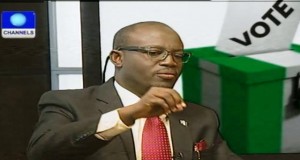 A Consultant System Engineer, Benjamin Shemola, has warned Nigerians that technology is just a tool and its introduction into the electoral process is no guarantee of success, as the people using the tool still determine its eventual output.
In an interview on Channels Television's Sunrise Daily, he admitted that indeed technology could be used for monitoring, communication and verification, towards making elections in Nigeria more credible, but that the Nigerian system did not seem like one willing to allow such credibility.
Speaking on the readiness of the electoral commission, INEC, to embrace technology, he berated the current process whereby voter registration has been done electronically with as much as the voters' biometrics data captured and yet electorates would still have to go and verify their names printed on papers.
He asked, "How can I be sure the data captured will not be muddled up?"
He lectured that if indeed INEC was ready, then the introduction of electronic verification was the first step to start with, if the dream of bringing technology into the voting system would ever be a reality.
Mr. Shemola also noted that there were still challenges in Nigeria that reduces the country's capacity to handle such upgrade in its voting system. He cited data storage challenges as one of the major challenges militating against the realistic use of technology during elections.
Asked if technology could ensure that votes are cast without the need to guard or protect the ballot boxes, Shemola revealed that this was possible, but Nigeria was not ripe for it. He explained that this mechanism would make cheating very difficult and by what is widely seen in the media, he did not see the Government initiating it.
Using Ekiti State as an example, he said that if really a new system would be introduced with a mission to make it work, then pilot exercises should have started to prepare for its successful use during the election.
He also added that factors like how upgradable the gadgets being acquired are and the budget for acquiring them were among issues that should be considered before acquiring technology for any venture, and these are challenges in Nigeria. He berated the Nigerian system whereby laptops and other gadgets used during similar exercises in the past are no more useful.
"We spend so much to raise so little" he protested.
Speaking on the issue of permanent voters cards, and condemning the re-registering of voters during every election, he said: "It is only in Nigeria that we have temporary cards for everything – driver license, voter cards, if it's going to be temporary then the solution is not absolute."
For Shemola to take the Independent National Electoral Commission, INEC serious, he said "I want to verify my data this time around, with my finger print, with that I will have confidence in the system."
Shemola insisted that Nigeria has the manpower to create and deploy the required technology, owing to how many Nigerians are behind such systems overseas, but the major problem with Nigeria was the political will to allow a transparent electoral system which technology would ensure.
He also warned that technology could also be used for fraud and Nigerians would need to be careful about their clamour for it, making reference to allegations buy a political party that the spreadsheet (Microsoft Excel) formula used for collation during an election was configured to favour a particular party while deducting from opponents' votes.
He concluded that what Nigeria needed was not a magical solution, but a gradual and consistent process, starting with an electronic voter verification process, whereby eligibility of voters would be confirmed via fingerprints.
He said that this would avoid cases similar to those witnessed during the Anambra State governorship election, where underage voters were alleged to have been found listed in the register.