Channels Beam: Activist Condemn Killings Of Nigerian Students Abroad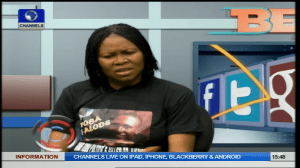 Despite the large amount of money voted for education in yearly budgets, the educational system in Nigeria is yet to attain the global acceptable and competitive standard.
That has resulted in Nigerians going abroad to find the educational El Dorado built by foreign countries.  These institutions are built mostly with tuition from Nigerians which is estimated to be around 50 billion US dollars.
But the result of that seems to come in two folds – First the near redundant foreign degrees obtained and secondly the unfortunate gruesome murders suffered in countries like Russia, Malaysia, Ukraine, India, the United Arab Emirate and unfortunately neighboring West African country, Ghana. Despite the public hearings by the National Assembly to investigate the reason behind these killings, the unfortunate act is yet to be brought to an end.
However, the onus jointly lies on the Federal Government to issue a stern warning, through its foreign missions and embassies, to the international community on Nigeria's stand against it and the Federal Ministry of Education to reform Nigeria's educational system  and make it as attractive as the ones obtainable in the western world.
But most importantly, Nigerians living and studying abroad must also ensure they abide by the rules and regulations of their host countries.
To get a hold of what exactly is going on, Channels Television's online correspondent, Victor Mathias, was joined by a human rights activist, Dr Joe Odumakin and other Nigerians joining via video call portal.
Victor Mathias tweets @victor_mbidi