Senate To Probe Boundary Demarcation Exercise In Cross Rivers State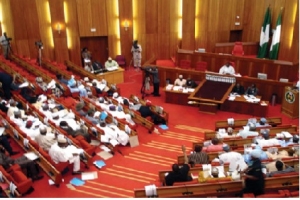 The Senate has mandated its Committee on States and Local Governments to investigate the demarcation of the boundaries between Nigeria and Cameroon in Boki Local Government Area of Cross Rivers State.
The Senate Leader, Victor Ndoma-Egba, brought a motion on the floor of the Senate warning of an impending border crisis between Nigeria and Cameroon if the matter was not addressed.
Senator Ndoma- Egba said that there was anxiety in the area over the recent activities of the Joint Technical Team of the Nigeria Cameroon Mixed Commission, who went to Danare and Biajua communities in Boki, Cross Rivers State, aided by Nigerian soldiers to arbitrarily enforce demarcation of the boundary between the two countries.
Senate President, David Mark, however, cautioned that the Senate needs to investigate the matter before making any resolution on the boundary demarcation exercise.
The demarcation of boundary between Nigeria and Cameroon by the United Nations (UN), if approved, could cede about eight local governments to Cameroon.