Nigeria's Minister of Petroleum, Diezani Allison Madueke, says the privatisation of refineries is still very much on the government's plans. At Tuesday's budget defence session in the Senate, the minister said the Federal Government would continue to discuss with the labour unions on the option of privatising more ...
A group of 8 developing countries known as D8 Countries has advocated massive in more ...
The former Sokoto State Governor, Mr Attahiru Bafarawa has described the code of more ...
The shocking video footage has emerged on YouTube, showing South African police more ...
The United States said on Tuesday, March 11 that Russia's responses to U.S. prop more ...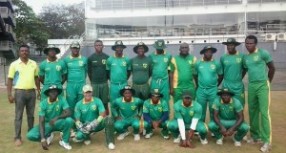 Khali Rehemtulla impressed for Tanzania as he got 3 wickets to help his team beat Nigeria by 10 runs at the World Cricket League d more ...