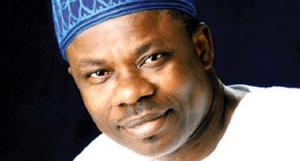 Ogun State Governor, Ibikunke Amosun, says Nigeria will be a better place if everyone who gets an award continue with the momentum with which they get such honour.
Governor Amosun made the remark on Sunday during the 14th edition of the Sun Award.
Bagging the Sun Man of the Year award for 2016, he said the honour would propel him to do more for the people of Ogun State.
Call To More Service
The governor, who dedicated to the people of Ogun State, was among successful awardees recognised for their positive contribution to the society.
"Let me thank from the Sun Managing Director and Editor-in-Chief, Eric Osagie, and his team for a job well done.
"When award like this is given, for me it's a call to more service.
"It's a challenge because you'll ask yourself, why am I single out, why are we being singled out to be given this award? It (means) they've seen some good things which we are doing.
"You have challenged me and this award is not for me, it is for the good people of Ogun State," he said.