Bankole awarded N894million contracts to firms with no addresses – EFCC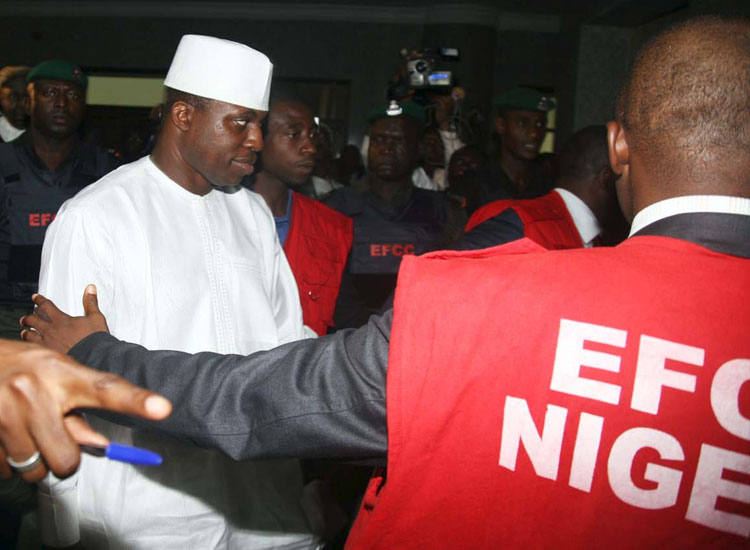 The Economic and Financial Crimes Commission, EFCC, told a federal high court sitting in Abuja on Wednesday that former Speaker of the House of Representatives, Mr. Dimeji Bankole, had issued contracts worth N894 million to fake companies while in office.
The crime fighting had attempted to track down most of the companines awarded contracts by Bankole when they discovered that some of the companies had no physical addresses and were non-existent.
According to reports, A.S.P. Ibrahim Ahmed testified at the resumed trial athat the former speaker had given contracts to companies not registered with the Corporate Affairs Commission, CAC.
Ahmed, the prosecution witness, had also been an integral part of the investigative team that looked into claims that Bankole had fraudulently altered the costs of items purchased for members of the 6th session of the House.
The Assistant Superintendent of Police said letters had been sent to the companies at their given addresses, inviting them to come in for questioning.
However, Ahmed said the "letters sent to the purported addresses on the contract papers were returned two weeks later fbecause the addresses were non-existent."
The investigative team went one step further.
"Owing to the fact that we could not trace the addresses of the companies, we decided to write the MD's of the Companies. We wrote the letters and sent them through UPS courier service but the letters were returned three weeks later because UPS said they couldn't trace the address" the witness said.
Counsel for the prosecution, Mr. Festus Keyamo, had sought to present a piece of document the EFCC had obtained from Mr. Bankole as evidence; however, counsel representing the accused O. Akanni, SAN, objected on the grounds that the document is yet to be certified.
Keyamo withdrew the document and asked for time to have the document verified and certified.
Trial Justice Donatus Okorowo, yesterday, adjourned further hearing on the matter till 3 April.
Mr. Bankole is currently facing a 16-count charge of contract inflation brought against him by the EFCC. He was arraigned on Wednesday, 8 June 2011, but shortly after filed two separate motions asking that the court squash the charges against.
The former speaker insisted that the prosecution lacked sufficient evidence against him and accused Mr. Keyamo, the prosecution's counsel, as being biased towards him.
However, the court 19 December 2011, dismissed both applications, insisting that enough evidence exists to link him to the crimes he is accused of committing.