Federer Beats Murray to claim Dubai title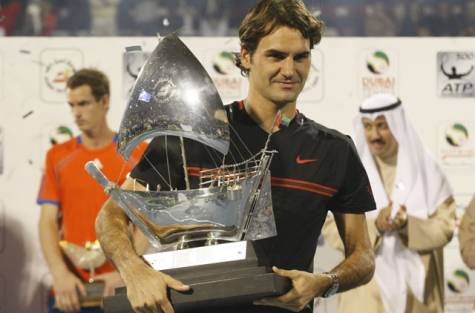 Fans' favourite Roger Federer helped himself to a record fifth title when he fought past Britain's Andy Murray in the final of the Dubai Duty Free Men's Open at a packed Dubai Tennis Stadium on Saturday night.
Watched by Shaikh Mohammad Bin Rashid Al Maktoum, the Vice-President and Prime Minister of the United Arab Emirate (UAE) and Ruler of Dubai, and Shaikh Hamdan Bin Mohammad Bin Rashid Al Maktoum, Crown Prince of Dubai and Chairman, Dubai Sports Council, for a major part of the first set, the Swiss went on to record a 7-5, 6-4 victory.
The capacity crowd rose to the occasion to welcome Federer as champion for a record fifth time in Dubai following his earlier successes in 2003, 2004, 2005 and 2007. "I think I played well in the big points tonight and that is what made the difference," Federer said.
He received the winner's trophy from Shaikh Hasher Maktoum, Dubai Director of Information and President of Tennis Emirates; Shaikh Ahmad Al Sabah, Chairman, Kuwait Tennis Association; Abdul Rahman Falaknaz, Vice-President, Tennis Emirates; Colm McLoughlin, Executive Vice-Chairman, Dubai Duty Free, and other officials.
Making his fourth appearance here, Murray had never previously got past the quarter-finals. But during the course of the week he showed all signs of maintaining his career edge against the former world No 1.
Playing both Djokovic — whom he beat in the semi-finals — and Federer at the same tournament for the first time ever, Murray was broken for the only time in the opening set in the 11th game. That put Federer 6-5 up and then served out 7-5 in 52 minutes.
In the second set, Federer assumed early control with a break in the third to go 2-1, up but squandered the advantage as Murray bounced right back with a break — the first against Federer's serve in 65 service games — and then hold for a 3-2 lead.
Federer had not previously been broken since the semi-finals in Rotterdam against Nikolay Davydenko last month.
However, Federer was far from finished as he broke Murray a second time when the Scotsman netted a backhand return in the ninth game to enable the second-seeded Swiss to serve out for set and match in an hour and 36 minutes.
Federer received the winner's cheque of $409,170 (Dh1.5 million).