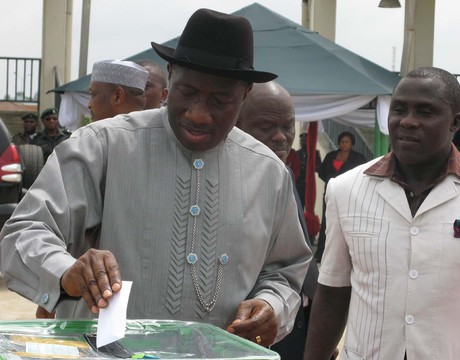 President Goodluck Jonathan has assured the people of Baylesa state of non-interference of his administration on the governance in the state, even at the party level.
Mr. President made this declaration shortly after the conclusion of the People's Democratic Party congress, held over the weekend at the Peace Park in Yenagoa, the Bayelsa state capital. He also urged the newly elected state executives of the party to run an all-embracing leadership.
According to the president, "I assure that I will not involve myself in the politics of this state, because I am elected to see to the welfare of the entire country in Abuja. So I will leave the running of the state to the governor and his team."
The President, an indigene of Otueke in Bayelsa, flew into the state to participate in the ruling party's state congress ahead of its national convention in Abuja. The president was ensued in a political battle with the last governor of the state, Timipre Sylva.
Dr. Jonathan said that he was pleased by the manner with which the exercise was conducted and charged the newly elected executives of the PDP in the state to ensure maximum unity, following the process of transformation of the party.
Earlier in his valedictory speech, the former state chairman of the PDP, Deacon James Dugo, thanked the party members for their support during his tenure and urged them to give the same to whoever emerges as the new chairman after the election.
Also speaking, the newly elected governor of the state, Honourable Henry Seriake Dickson congratulated the new party's leadership in the state, describing them as 'lucky ones' as their tasks will be lighter than those of their predecessors; pointing out that they will enjoy the support and partnership of the executive arm of government.
He also, charged them to hold the balance of the party under all circumstances.
In his acceptance speech as the newly elected chairman of the party in the state, Mr Samuel Enokoba, expressed his gratitude for the confidence deposed on him by the state PDP and promised to discharge his duties accordingly.