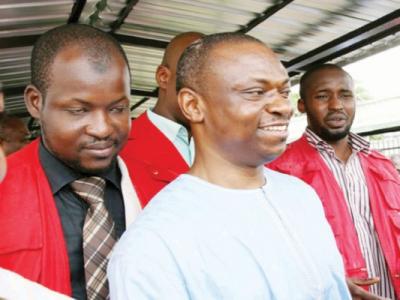 A Lagos High Court has dismissed an application by the former Managing Director of Bank PHB PLC (now Keystone Bank), Mr. Francis Atuche, alleging that his prosecution by the Economic and Financial Crimes Commission (EFCC) was being influenced by the Central Bank of Nigeria (CBN).
Mr Atuche is standing trial along with his wife, Elizabeth, and former Chief Financial Officer of the bank, Mr. Ugo Anyanwu, for allegedly conspiring to steal about N25.7 billion belonging to the bank.
In the application filed by his counsel, Chief Anthony Idigbe, the former bank boss sought to strike out a "bundle of documents" filed by the anti-graft agency.
He further alleged that the EFCC was not "sufficiently independent" in prosecuting the case, with its lead prosecutor, Mr. Kemi Pinheiro (SAN), being paid by the complainant – the CBN – instead of the state.
In her ruling, Justice Lateefat Okunnu described the application as "speculative in its entirety."
She therefore refused it & subsequently dismissed it.
On the argument by the defence counsel that filing the documents at this stage amounted to denial of his client's right to fair hearing, the judge faulted the prosecution for filing their documents in a piecemeal manner.
She however went on to ask the defence to suspend their objection to the documents till the time all the documents are tendered as evidence.
The matter is adjourned till the 3rd of April.