10 year old girl gives birth to 10kg baby in Colombia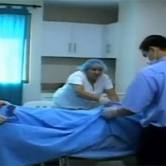 Another young mother was added to the list of 'youngest mothers in the world' when a 10-year-old girl from Colombia gave birth to a healthy baby girl on Friday.
The girl, whose name is yet to be released due to privacy reasons, is from Manaure, a town in the Colombian Department of La Guajira, which is comprised of various indigenous tribes.
Sources say, the girl who never visited a doctor all through the 39weeks of pregnancy, arrived the hospital, bleeding heavily and screaming from contraction pain.
She nearly escaped death as the doctors delivered her 5-pound, 5-ounce baby via caesarean section.


One of the doctors,  Dr. Fabio Gonzalez  said the girl did not understand what was going on. Apparently, she was too young to understand the whole process. "We carried out the risky C-section because of her age….We hope there aren't anymore like cases," he said.
The mum and baby, which weighed just 5lbs, are "doing well" but reports say the young mum is refusing to breastfeed her baby.
So far, it is unclear how the girl got pregnant or who the father is, as the case is being investigated by police. However, Colombian newspapers have speculated it is a 15-year-old boy or a 30-year-old man.


The young mother is not the first pre-teen to give birth. Late last year, a ten-year-old Mexican girl gave birth to a baby boy. And in August 2010, an 11-year-old Mexican girl had a child after being denied an abortion by the local justice department.