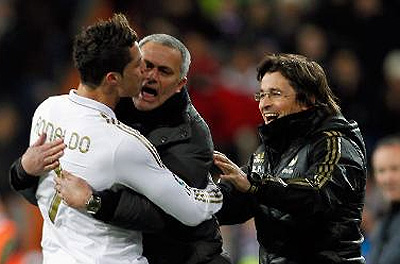 Jose Mourinho, Real Madrid Manager who got in his kitty his first La Liga title with his team said he feels that Cristiano Ronaldo deserves to be awarded the next Balloon d'Or Player of the year award and not Lionel Messi.
Messi who has won the World best player award back to back became only the second player in history to win three successive times last January after Michel Platini who the football legend and the present UEFA President won from 1983-1985.
Mourinho said he feels that the former Manchester United player's contribution formed a very huge part of their success this season which part of it is the team winning of the La Liga title, so he believes that Ronaldo should be a worthy winner when the awards come around again.
Although Ronaldo's 46 league goals fell four short of Messi's remarkable haul as the Argentine claimed the Pichichi and the European Golden Shoe.
And for that reason Mourinho believes his 27-year-old compatriot should be rewarded by FIFA when Ballon d'Or voting takes place.
In Mourinho's words "Cristiano has to win the Ballon d'Or, not because he has been the top goal scorer, he was that already last season, but because his goals delivered a title.
"Messi scored 50 goals that weren't worth anything, in the same way that Cristiano scored 42 last season that didn't stand for anything. He hasn't been able to win the Pichichi and I believe he should be compensated with the Ballon d'Or."
Meanwhile, Mourinho has again reiterated that winning La Liga with Madrid was toughest he has ever won. The 49-year-old Portuguese has now won seven championships in four different countries after collecting two league titles each with Porto, Chelsea and Inter Milan. But he believes overcoming Barca has been the biggest challenge of his career.