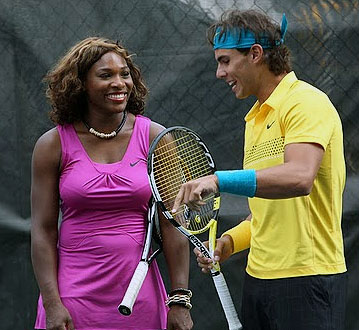 Serena Williams recorded an easy passage as she majestically strolled into the semi-final of the Rome Masters on Friday when Italian Flavia Pennetta gave up her chance for a place in the semi-finals as she left with a right wrist injury.
Ranked 21, Flavia was treated when she called for medical attention with 3-0 down after which she decided to quit when the scoreline was 4-0  and 40-0 against and in favour of Serena Williams.
According Serena she wasn't happy with her mode of qualification but it was nice to have a semi-day off.
The American will be meeting China's Li Na in the semi-final who is the defending champion of the French Open, a match Serena qualified as a test for her playing ability, an ability that won her the Madrid title last week.
Li Na beat Dominika Cibulkova of Slovakia 6-1, 7-6 to reach the semis.
Williams is looking forward to the French Open also as she displayed confident ahead of the Open come May 27th.
After being side-lined from July 2010 to June 2011 because of a blood clot in one of her lungs, the world number six said she was now feeling more confident than last summer, when she won back-to-back tournaments before losing in the final at the U.S. Open.
Meanwhile in the men's game, Rafa  Nadal flowed into the semi-final of the Italian Open in fashion he has never done in months as he struck his mark better with an impressive 6-4 7-5 victory over Czech Tomas Berdych today.
Nadal who is presently rated number three in the world is aiming to clinch the title a sixth time as he came from behind to claim victory against the Czech.
Spaniard David Ferrer will be his next opponent in the semis as Ferrer also edged out Frenchman Richard Gasquest with 7-6 6-3 scoreline.
Later today, World number one Novak Djokovic will be facing Jo-Wilfried Tsonga of France while Roger Federer, the winner in Madrid for the men's will face Italian Andreas Seppi.