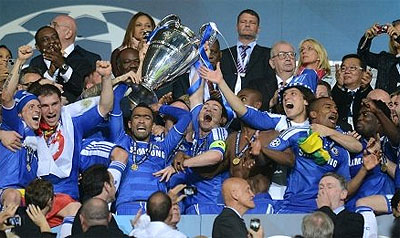 Didier Drogba was the Chelsea hero as Roman Abramovich finally completed his Champions League odyssey in Munich.
Trailing Thomas Muller's late header, Drogba first saved the Blues by heading them level in the 88th minute.
Then, after Arjen Robben has missed from the spot in extra-time, Drogba kept his nerve after Ivica Olic and Bastian Schweinsteiger had failed in the shoot-out to ensure Chelsea erased the memory of their misery in 2008 by conquering Europe for the first time.
Roberto di Matteo has delivered the trophy Abramovich spent the thick end of £2billion to win.
From his place in the stands, the Russian was clearly overjoyed, as was the suspended John Terry, who watched the tense shoot-out unfold from the touchline, on roughly the same spot he had prowled three hours earlier.
It was the most visual example of the damage Chelsea did to themselves by getting four men suspended in that backs-to-the-wall semi-final epic with Barcelona.
And once the game started, it was just the kind of blood and guts encounter Terry excels in. Assisted by the obvious advantage of playing at home, Bayern got themselves on the front foot immediately and were rarely pushed back.
The nearest they came was when former Chelsea man Arjen Robben glided past two defenders, then drilled a low shot towards goal, which Petr Cech managed to deflect high onto a post, with Robben barely able to believe he had failed.
Indeed, they might have had something to celebrate themselves had Juan Mata kept his curling free-kick down or Salomon Kalou been able to direct a shot away from Manuel Neuer after Frank Lampard and Drogba combined to set him up from an admittedly acute angle.
The pattern continued after half-time and Ribery thought he had grabbed a deserved opener when he snaffled the loose ball after Cole had blocked Robben's goalbound shot. The offside flag cut German celebrations short.
Cole's involvement was part of an outstanding contribution from the full-back, who seemed to be in the way of nearly all the threats to Chelsea's goal.
He denied both Robben and Toni Kroos as Chelsea, enhancing his status one of the few truly world class players Roy Hodgson will have at his disposal at Euro 2012.
In response, Drogba, possibly making his last appearance for the club, unleashed a speculative long-range volley that dipped narrowly wide.
The sense of Chelsea disappointment at Bayern finally breaching their defences must have been made more acute by the knowledge that when Kroos curled a cross beyond the far post, there appeared very little danger.
Muller intelligently headed the ball hard and down, which meant it bounced up towards the crossbar, possibly catching Cech by surprise as he seemed in the perfect position to prevent it ending up in the net. But Abramovich's team are made of stern stuff.
And with barely a minute remaining, and Muller replaced by an extra defender in Daniel van Buyten, Drogba rose at the near post to power Mata's corner home.
This time there was nothing the goalkeeper could do, the ball speeding past Neuer at such pace, from so close, there was no time for reaction.
The drama continued into extra-time as Drogba bundled Ribery over in the box.
Whilst the contact might not have looked much, it was enough to end the Frenchman's evening.
Robben seemed unaffected by the delay as his penalty headed for the bottom corner. Cech was equal to it though, making a superb save to his left and then smothering the rebound.
It was the kind of moment that made you think fate had decreed a Chelsea win, a belief only strengthened by Bayern passing up two clear openings in the second period of those additional 30 minutes.
As Di Matteo pointed out yesterday, you make your own luck. He deserves praise for hauling round a season that appeared to be heading for disaster in February.
And the only ones not acclaiming that achievement were Tottenham, who in a cruel twist are now denied a place in next season's Champions League.