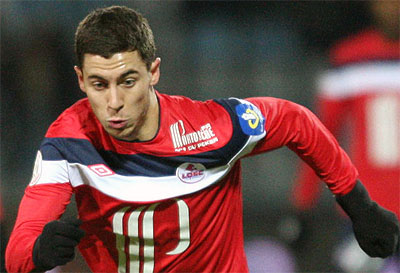 Chelsea are ready to capitalise on their Champions League success by making a big money move for Lille playmaker Eden Hazard who has attracted interest from across Europe with his displays this season, admitted recently that his future does not lie at the Stade Metropole.
Representatives of Manchester City and Manchester United are expected to hold talks with Lille; the Belgian's agent was in London yesterday.
Blues owner Russian Roman Abramovich believes that a £30m fee will be enough for the 21 year old to move to Stamford Bridge and Hazard is expected to be offered £250,000 a week on a five year deal.
Chelsea will now be in contention for the signature of the 21-year old with the two Manchester clubs.
Abramovich and his chief executive Ron Gourlay will have to put together an attractive package to bring the Belgian international to West London for he stated earlier that he will possibly be moving to Manchester City next season.
Meanwhile, Eden Hazard was reported to have decided to make a final decision tonight as to whether he will be playing with Chelsea, Manchester United or English Premier League winners, Manchester City.
Hazard is a hot commodity in the market in the EPL, as he has played impressive football with Lille this season. In 37 games, Hazard has netted 17 goals, recorded 16 assists and got off 101 shots in the process.
Hazard is an elusive dribbler that is as quick as anyone in football in the attacking end of the pitch. At just 21 years of age, the young Belgian talent is among the world's best footballers with his top-notch play.
His goal-scoring abilities and control of the ball are scary for opponents to have to handle to say the least. Hazard is as "hazardous" as they come with the ball in his possession.
With such developed and strong programs to choose from, there is no question Hazard will be able to prosper significantly well over the next several seasons.