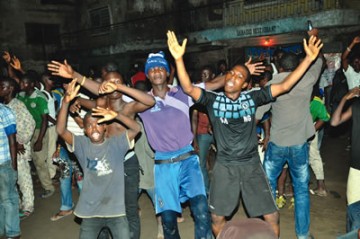 At least one person was reportedly killed while several others sustained serious injuries during Chelsea victory celebration on Saturday.
The deceased, who was identified as a  pregnant lady, was killed in the Ikotun area of the state by gunmen who took advantage of the jubilation to rob innocent residents.
According to residents  "The entire area was rowdy after the match and some gunmen, who stormed the area, went into the shop of one pregnant lady and robbed her. They shot her before fleeing. She was rushed to a nearby hospital but died soon afterwards."
In Somolu area, a man was reportedly stabbed in the eye after being unable to pay up his bet.
An eyewitness, Mr. Adewunmi Brown,  "Before the match began, I already knew there would be trouble because the last time Chelsea won, there was pandemonium. So, on Saturday, I was at a pub on Kadupe Street. After Chelsea won, two guys began arguing about money and before we knew it, one stabbed the other in the eye. I quickly ran away into my compound and locked the gate but the entire area was filled with jubilation. Some of the fans, who were obviously drunk, took off their clothes and were roaming the streets naked."
According to Punch newspaper, another man, Obi, was also stabbed in the eye for mocking football fans in Orile area of the state. A resident, Matthew Ajie, said after Chelsea had won the match, Obi was insulting the fans, calling them hooligans for the manner in which they were celebrating.
In Ojota area, some jubilant fans were said to have blocked a part of the Ikorodu Expressway to extort money from motorists.
Meanwhile, the Police Public Relations Officer, Mr. Joseph Jaiyeoba, said he was not aware of any death or pandemonium associated with the match, saying that the police had put in place measures to forestall the breakdown of law and order.