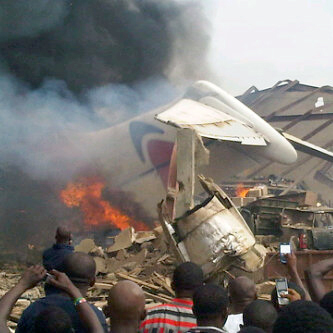 The nation is in mourning today after 153 people died aboard the Dana airlines flight 0992 from Abuja crashed at Iju/Ishaga in Lagos, Nigeria's south-west region.
The commercial aircraft on Sunday afternoon, crashed into a residential area and killed all 147 passengers and 6 cabin crew members on board.
The number of people affected in the residential building is yet to be ascertained.
Among those who lost their lives in the crash were the general manager, public affairs of the, NNPC, Dr Levi Ajuonuma, two staff of the World Bank, Mr Ehime Aikhomu, first son of former military Vice-president, the late Admiral Augustus Aikhomu, Mr John Ahmadu, a retired deputy inspector-general of police (DIG), Lt.-Col. Jumbo Ochigbo and Major -General Umar Tahir
The Dana craft, a Boeing McDowell Douglas (MD-83), with registration number 5N-RAM operated by Dana Airlines Limited, crashed barely five minutes to touchdown at the Murtala Muhammed Airport, Ikeja Lagos.
The plane crash occurred, a few minutes from landing at the Murtala Muhammed Airport II (MMII), on a flight from Abuja. .
The Ministry of Aviation and the National Civil Aviation Authority (NCAA) confirmed the crash, saying there were no survivors aboard the ill-fated flight.
Also confirming the crash, General Manager of Lagos State Emergency Management Authority (LASEMA) , Femi Oke-Osanyinpolu, disclosed that the Dana Air flight was coming from Abuja.
The air crash in Lagos follows Saturday's incident in neighbouring Ghana, when a Nigerian registered cargo plane (Allied Air) crash-landed in the capital Accra, hitting a bus full of passengers and killing ten of them.