The National Emergency Management Authority (NEMA) on Monday said that 137 bodies have so far been removed from the scene of the air crash involving a Dana aircraft carrying 153 passenger and crew from Abuja to Lagos.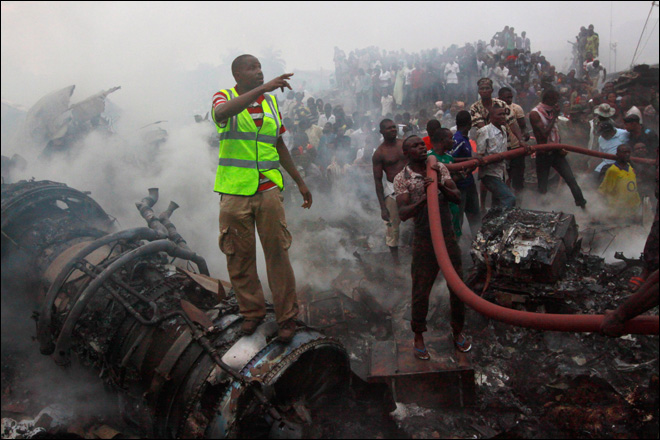 NEMA's spokesperson, Yushau Shuaib, who disclosed this in a press statement, said the bodies have been deposited at the mortuary of the Lagos State University.
The statement also quoted NEMA's Director of Search and Rescue, Air Commodore Alexander Bankole, as suspending the search and rescue operation till Tuesday after the body of a woman clutching a baby was recovered.
The General Manager, Lagos State Emergency Management Agency, Femi Oke-Osanyintolu had earlier on Monday told journalists that 25 of the bodies removed from the scene of the plane crash were intact while the others were burnt beyond recognition.
He said that the Lagos State Ministry of Health had initiated DNA tests on the corpses to ascertain the identities of the burnt persons.
Mr Osanyintolu said that 15 families displaced by the crash had been taken to the state relief camp at Agbowa-Ikosi in Epe, Lagos State.
"The major challenge we had yesterday was crowd control which hindered our gaining access to the scene but with the presence of security personnel, the evacuation has been easy," he said.
"It is a national disaster; we urge the people to stay away to avoid more danger as the affected buildings will be pulled down.
"The place has to be epidemic-free as it is a residential area," he said.