Cristiano Ronaldo, Portugal's only threat – Maradona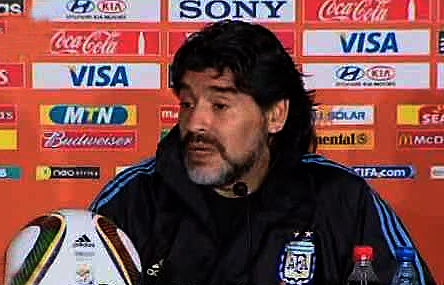 Former controversial Argentine player, Diego Amando Maradona has singled out Real Madrid Striker and former Manchester United forward man; Cristiano Ronadlo as the only threatful player Paulo Bento has on his squad wearing Portuguese national team jerseys for Euro 2012, claiming that Portugal has one of the weakest line-ups in the tournament.
The loud Argentine who was formerly the coach of his country's national team expressed his belief Portugal will struggle in the European Championship to make an impact if at all there will be any, as Coach Paulo Bento has arguably one of the weakest sides in this tournament.
Portugal will be having their first acid test against Germany today, while Netherlands take on Denmark in the other Group B fixture.
Now coaching Al Wasl, Maradona tipped the Seleccao to crash out at the first hurdle, pointing out that Cristiano Ronaldo is their only player who can make the difference as Portugal got qualification through playoff to be in EURO 2012.
Moreover the national team has not been enjoying the support their followers since the squad messed up at home against Turkey despite having Ronaldo on ground; this tells you that Ronaldo cannot do it alone if he lacks vibrant support from all corners, Maradona said.
Commenting on the Netherlands versus Denmark game which is also slated for today, he said the Oranje men will too much Denmark to curtail or handle as very few national teams can match their prowess on-field in terms team and player to player talent.