ICC lawyer held in Libya faces 45-day detention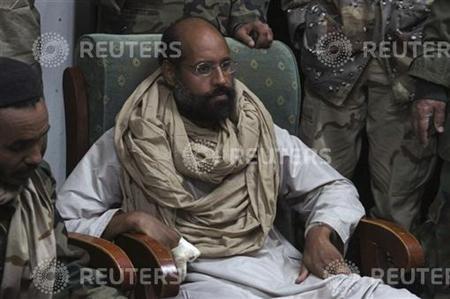 An International Criminal Court lawyer and interpreter face 45 days in detention in Libya while investigations into their meeting with Muammar Gaddafi's captured son continue, a spokesman for the prosecutor-general's office said on Monday.
A four-member ICC delegation has been detained in the western mountain town of Zintan after one of its lawyers, Australian Melinda Taylor, was found to be carrying documents regarded as suspicious, for Saif al-Islam Gaddafi, a Libyan lawyer and a militia said on Saturday.
"The order has been given to put them in detention for 45 days," Taha Baara of the prosecutor-general's office said.
Libyan officials say Taylor and her female interpreter, as well as two male colleagues, are being held in a guesthouse in Zintan. An ICC team arrived in Tripoli on Sunday to try to secure their release.
Libya's deputy foreign minister Mohammed Abdel Aziz earlier said the ICC representatives were holding talks with the prosecutor general and were expected to visit their detained colleagues on Tuesday. The president of the Hague-based court has demanded their immediate release.
"We were ready to take them to Zintan today but they decided they wanted to first meet with officials from the prosecutor-general's office," Abdel Aziz said.
"They will probably go to Zintan tomorrow."
Reflecting Libya's problem of powerful local militias and a weak central government, the Zintan brigade holding Saif al-Islam said on Saturday it would not agree to the government's request that it free the four ICC staff before questioning them.
Australian Foreign Minister Bob Carr said Abdel Aziz had confirmed in a telephone call that Taylor was "being held by Libyan authorities in Zintan and would be detained pending further inquiries".
Saif al-Islam, held in Zintan since his desert capture in November, is wanted by the ICC for crimes during the uprising that ended his father's 42-year rule last year. Libya's new rulers insist he should be tried in his home country.
The ICC has previously expressed concern at the conditions under which he is being held. Human rights groups question whether Libya's justice system can meet the standards of international law.
A Libyan lawyer said the suspicious documents included letters from Saif al-Islam's former right-hand man Mohammed Ismail, as well as blank documents signed by the prisoner.
The ICC said Taylor had been working at the ICC since 2006 as counsel in the office that represents ICC indictees' interests before the appointment of a formal defence counsel.
It named the three other staff members as Helene Assaf, an ICC translator and interpreter; Esteban Peralta Losilla, the chief of the Counsel Support Section at the ICC; and Alexander Khodakov, external relations and cooperation senior adviser at the registry of the ICC.