The insecurity in Nigeria on Thursday was the issue that dominated the National Council of States meeting presided over by President Goodluck Jonathan at the State House in Abuja.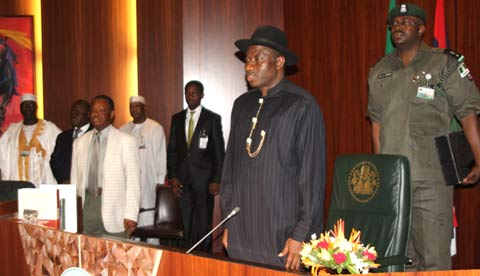 Present at the meeting were past Nigerian leaders including Shehu Shagari, Ernest Shenekan and Abdulsalami Abubakar as well as the governors of the 36 states of the federation or their deputies.
There was no formal briefing after the meeting but sources said that National Security Adviser, Sambo Dasuki briefed the meeting on security situation in Plateau state and the efforts being put in place so far to nip it in the bud as well as the situation in Mali and its effect on neighbouring countries including Nigeria.
The Belgore Report on constitutional matters and the National Honours list were also discussed during the meeting
The 36 state governors met last night in Abuja to take a common position on the incessant violence in parts of the country ahead of the council meeting.
Officials close to the forum said the governors were discussing the level of insecurity especially in the North, and were considering taking a common position ahead of the Council of State meeting.
The governors' meeting was summoned in the wake of the latest bloodshed in Plateau State, where dozens of people were in killed in attacks on villages, which also led to the deaths of Senator Gyang Dantong and state legislator Gyang Fulani.
Last night's meeting was held at the Rivers' State Governors' Lodge in Abuja.
The governors' meeting was attended by governors of Katsina, Kaduna, Borno, Zamfara, Kebbi, Taraba, Jigawa, Kogi, Enugu, Delta, Lagos, Ekiti, Ondo, Ebonyi, Abia, Plateau, Rivers, Bayelsa, Anambra, Gombe and Adamawa states. Deputy governors of Kano, Nasarawa, Niger, Kwara, Ogun and Yobe states were also in attendance.
.