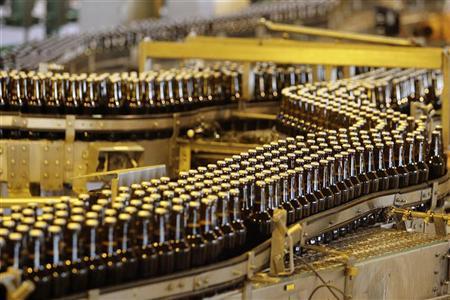 The South African Brewery (SAB) has made its entry into the Nigerian beer and beverage industry with its construction of a production plant in Anambra State.
The governor of Anambra State, Mr Peter Obi, while answering questions from journalists, said that the SAB production plant which will be commissioned before the end of the month, welcomed the South African company for building the brewery he described as the biggest in sub-Saharan Africa in his state.
The governor observed that foreigners' perception of Nigeria was at variance with the true situation in the country, saying "the perception of Nigeria by foreigners is far worse than it is in reality. The truth is issues about Nigeria are usually over exaggerated by foreigners."
"The South African Brewery, if they show you their report and perception about Nigeria before coming to build their plant in the country, they wouldn't have invested in the country."
He said Africa and the Middle East contribute 11.5 per cent of Heineken's global income, "out of this 11.5 per cent, six per cent comes from Nigeria. Today, Guinness derives 6.1 per cent of its global income from Nigeria. In fact, Guinness sells more in Nigeria than its home country."
This will tell you that despite the challenges we have, which the Ministry of Trade and Investment is working with state governments to address, Nigeria still remains the best investment destination for genuine investors across the world," he said.
Meanwhile, SAB operates seven breweries and 40 depots in South Africa with an annual brewing capacity of 3.1 billion litres.
Its portfolio of beer brands are Carling Black Label, Hansa Pilsener, Castle Lager, Castle Lite and Castle Milk Stout.
Its full brand portfolio includes 10 brands of beer and five flavoured alcoholic beverages.