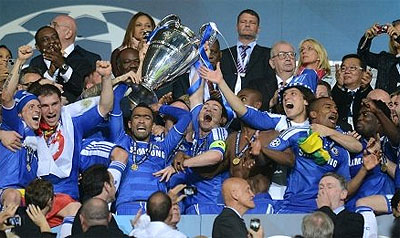 Chelsea; last season's Champions League winner and a first timer in the realm of Champions League winners has been pitched against Italian giants Juventus in the race to defending their title which they were crowned with last season in the group stages of the competition.
Last season EPL champions Manchester City has also been fixed to face Spanish giants Real Madrid who has been said to have been handed the toughest of all the draws by pundits because Real Madrid will be locking horns with three league champions in Manchester City, Borussia Dortmund and Ajax in Group D.
The Spanish champion beat Ajax 3-0 both home and away in last season's competition as it will be itching to bid for a record 10th title at home against the Premier League champions.
Champions League winner Chelsea will begin the defense of its title at home against Italian giant Juventus, while Real Madrid will face Manchester City in the tournament's toughest group.
The group stage pitched the holders against a Juventus side that stormed to the Serie A title and was unbeaten in all competitions last season apart from the Italian Cup final was done today.
Group E includes Shakhtar Donetsk and Champions League debutant Nordsjaelland of Denmark.
With all four teams winning their leagues last year, it is no surprise Group D has been pinpointed as the toughest group.
Juventus should qualify for the knockout stage, along with Chelsea, which knocked the Serie A side out of the competition in 2009.
Meanwhile, Nordsjaelland is expected to do little more than make up the numbers in Group E.
Bayern Munich, last season's runner-up, is in Group F with Valencia as well as Lille and BATE Borisov.
Four-time winner Barcelona faces Benfica, Spartak Moscow and Celtic.
Manchester United, which failed to clear the group stage last season, also has a relatively weak group with Braga, Galatasaray and Cluj.
Seven-time winner AC Milan was drawn with Zenit St. Petersburg, Anderlecht and Malaga – another Champions League debutant.
French champion Montpellier makes its debut in the competition against Arsenal, Schalke and Olympiakos. Arsenal striker Olivier Giroud scored 21 goals for Montpellier last season, finishing as the joint top scorer in the French league.
Big-spending Paris Saint-Germain returns to the Champions League after an eight-year absence and will play Porto, Dynamo Kiev and Dinamo Zagreb.