Members of the Anti-Corruption Network, a non-governmental organisation, on Tuesday in Abuja, marched to the headquarters of the Central Bank of Nigeria (CBN) to protest the planned introduction of N5000 banknote by the bank.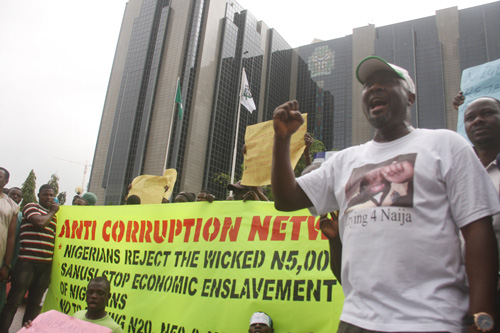 At the CBN headquarters in the Central District of Abuja, the group chanted anti government's songs amidst heavy rain and accused the bank of trying to further impoverish the poor with the introduction of the N5000 denomination.
The leader of the group and a former member of the House of Representative, Dino Melaye, said the policy will only increase the sufferings of the Nigerian people contrary to the views of the CBN governor, Sanusi Lamido.
"We have received and heard of the corporate policy of the CBN; we have analysed it and I want to believe that laws are meant for men and not men for man," he said.
"Democracy will continue and must continue to be government of the people, for the people; and by the people and not government of the greedy, for the greedy and by the greedy.
"We are here today as Nigerians to show our displeasure for this very hash policy that the CBN is about to introduce. How will the introduction of the N5000 note bring food or leverage on the table for the common Nigerian? We believe that many failed policies of the CBN, under Sanusi Lamido, have brought more pain and sufferings to us. With this N5000 note, is the CBN approbating and reprobating?"
Tunde Lemo, a Deputy Governor of CBN, who received the protesters on behalf of the bank, said it is not true that the apex bank will use N40 billion to print the new currency as recently reported in the media. He also said even if the CBN is not introducing the new notes, it will still spend money to print currency.
Mr Lemo also said the CBN will not do anything that will not be in the interest of the masses, while arguing that contrary to popular opinion, the introduction of the new N5000 note will not lead to higher inflation.
"Without the masses, there is no CBN; and CBN is doing a lot to help the masses," he said.
"The most important objective of the CBN is to fight inflation as it hurts the masses more than anything else. The leadership of the CBN is ensuring that its policies will fight inflation to the advantage of the masses," Mr Lemo added.
He however promised that the apex bank will listen to the opinion of the people on the issue. The protest was peaceful as the Police, led by Ade Shinababa, FCT Commissioner of Police ensured there was order.