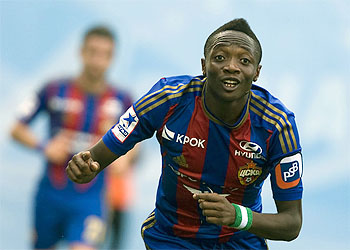 Ahmed Musa, forward for CSKA Moscow is being reported as saying that he wants to join Arsenal.
The Nigerian forward, who claims that Cristiano Ronaldo is his role model, signed for CSKA in the January transfer window but seems as if the player could already have his eyes set on a move.  The player, who likes to play as a second striker, has already found the net on three occasions in eight appearances in the league and has also managed to grab two assists.
Although he has not been in Russia for long, at the time when he joined CSKA the player said it is the next step in his career.
So it was clear at the time that he saw the move as merely a step and now the 19 year old has said in response to question about what he would consider being at the top of his career
Ahmed said when he is as good as Cristiano Ronaldo then he is good enough to play for Arsenal FC of England. He said it is his dream to play for Arsenal one day.
To Ahmed, Ronaldo is the best footballer on earth as far as he is concerned and he is his role model and watching him play inspires him.
Ahmed said he is even fashioning his game after the Portuguese as he is his hero.
Already married at a young age, Musa has claimed that his wife has helped him settle in to life in Russia, saying there can't be a better wife than her.
Described as a 'teenage sensation' before his move to CSKA when he was still playing for VVV Venlo, he broke the longstanding Nigerian goal scoring record during his time in the league there, scoring 18 goals in his only season in the Nigerian top flight before making his move to the Eredivisie.
He earned two penalty kicks in his first two games for the Dutch side and went on to score five and created four in 23 appearances in his first season in Europe and in his second three goals and three assists in 13 league games before he moved to Russia in January for an undisclosed fee.
Musa is under contract with CSKA until 2016.