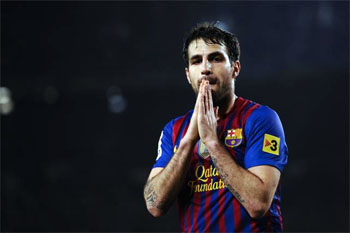 Current English Premier League Champions Manchester City is said to be on the trail of Spain and Barcelona midfielder Cesc Fabregas possibly to launch an eye-popping bid for his signature.
This is coming after the English enquired about the player's availability to know if it is possible to whisk the Spaniard to England.
It will be recalled the Spanish international has been a shadow of himself since joining Barcelona in 2011 compared to his days at the Emirates where day in day out he is sure of a starting shirt but it's now the reverse at Nou Camp which in clear term Fabregas is not happy about.
As a fresh 16 year old, Fabregas moved from Barcelona's La Masia academy to Gunners' club Arsenal where he spent eight years.
The attacking midfielder has maintained his connection with the Gunners despite eventually returning home last year and today he revealed he would have happily stayed at Arsenal for the rest of his career had Barca not come calling.
Now though Manchester City are seemingly interested in testing his loyalty to Arsenal by approaching Barcelona over his availability according to reports, Barcelona boss Tito Vilanova is growing increasingly angry at Manchester City's approaches for his players, and is not willing to sell anyone he considers as 'essential' anytime soon.