The Director-General of the State Security Services (SSS), Ita Ekpeyong has invited the Senator from whose home officials of the Joint Task Force (JTF) in Maiduguri arrested a Boko Haram member.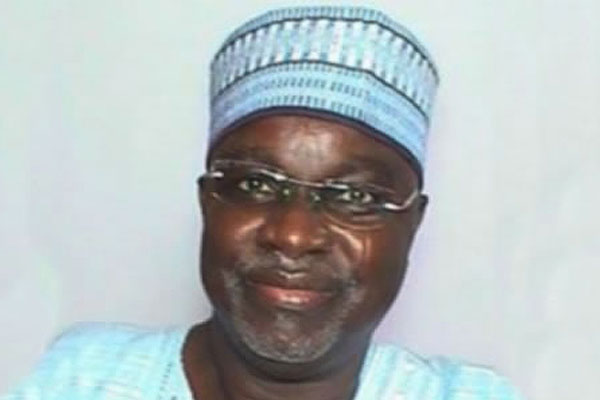 The Joint Task Force, JTF, had on Thursday announced the arrest of a suspected terrorist sect leader, Shuaib Mohammed Bama in Maiduguri, the Borno capital, describing him as "a high profile Boko Haram Commander who has been on the list of wanted terrorists operating between Bama and Maiduguri."
The SSS later linked Mr Bama to "a serving senator's house along Damboa Road, GRA Maiduguri."
The Senator, who was later identified as Ahmed Zanna, representing Borno Central Senatorial district, has denied the allegation that the Boko Haram member was arrested in his house.
Mr Zanna, who spoke in Abuja, said there is a high level plot to frame him. He confirmed that he had been invited by the SSS.
"Since my house was searched and the JTF made the announcement, I have not been contacted by security agencies. But it was only this morning (Sunday), I saw a text that the SSS DG will want to see me on Monday. I will honour the invitation."
"What I am suspecting is that they want to frame me up."
He denied any link to the Boko Haram sect, saying although the suspect is his nephew; he was not arrested in his apartment.
He said the suspect was arrested in a house belonging to a former Governor of Borno State, Ali Modu Sheriff.
The embattled Senator confirmed that the Boko Haram suspect is his "sister's son", who he had long kept at arm's length.
"He beats up my children; he abuses my friends. He came to my house, so I sent him away. That was about a year ago. And for whatever reason I don't know, he came to my house last week and I said he should leave the house," Mr Zanna said.
"Some time ago, he even threatened to kill his mother. So, the mother was not even feeling comfortable living with him. And he narrated that to me. That is why I also do not want him to be near me.
"I don't know him to be a Boko Haram member. Never, never, I do not know him to be a member of Boko Haram."
Mr Zanna said the JTF had been scheming to frame him because he has always criticized their officials who go about the state committing terrible human rights abuses in the name of hunting Boko Haram insurgents.
"On Thursday, they went to my house. I was in Warri at that time; I went for an oversight function. My wife called me; she said the army people were at our gate. Actually, they went with four armoured vehicles and about 40 of them came to my house.
"They searched all the rooms and when they went to the children's room, they broke all their cabinets and searched everywhere. When they could not find anything, then they assembled all the boys in my building, took them out and put them under the scorching sun. Actually, before doing that, they beat them up. We had to take them to hospital later.
"Under this traumatized condition, they asked them whether they know one Shuaib Bama. They said, of course, they know when they see him.
"One of them was asked to go and show them where he is living. As they were going, when they were about to reach the house, they stopped. In fact, they blindfolded the boy. And one of the officers asked one of the personnel to come down so that they should follow him to the house without the boy telling them where the house is.
"So, as they started going, the other officer sitting down asked him: 'If you know the house, then why should we pick this boy?' And after some arguments, they went to the house and arrested the boy.
"Contrary to the claim of the JTF, the boy was arrested on Rabi Street, off Damboa Road. And the, the house belongs to Senator Ali Modu Sheriff. Before, the house belonged to one Abba Mala, a Cameroonian. And later, he sold it to late Tijjani Banki and Sheriff bought from Tijjani Banki.
"I reacted because they said they arrested the boy in the house of a serving Senator along Damboa Road and I am the one living along Damboa Road.
"I really do not understand why they did all these. I am confused. If they want to frame me up, they have failed in that one because they did not get that boy in my house. I have nothing to do with it. Let them go and ask the person where the boy was staying. So, they should not have mentioned my house."
"This story emanating from the JTF is actually as a result of an interview which I carried out in BBC last week – asking for their withdrawal from the state because they are not working according to the rules of engagement.
"I noticed that they are just killing innocent people, killing them unnecessarily, harassing their families, extorting money. All these have been going on and I became so concerned. Particularly, the killing and burning of houses became the order of the day.
"At least, 300 houses were burnt within the last one and a half months. And it will not be an exaggeration for me to say that up to 500 people have been killed by the bullets of the JTF.
"I called for their withdrawal because even Boko Haram cannot do more than that. If they have come to protect us, they are not supposed to eliminate our young ones. Most of the people affected are young ones.
"According to the information I got yesterday, they have started even killing old men. Somebody who was about 70 years old was killed. He was sitting down, listening to a radio and a JTF man came and he said: 'Baba come'. They just took him to a certain distance and shot him. This is the type of things happening. So, my people are helpless. This warranted me to react."
The arrest of the suspected Boko Haram Commander is a major breakthrough for the JTF and also gives credence to recent claims by President Goodluck Jonathan that the sect has links with some government officials.
Early this year, President Jonathan disclosed that Boko Haram had infiltrated all levels of government, although he did not give details of those involved.