Suarez is unstoppable – Liverpool Manager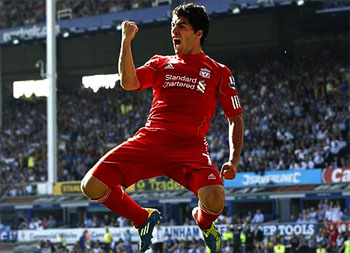 Liverpool and Uruguay International; striker Luis Suarez has secured the backing of his manager Brendan Rodgers after he dismissed fears that the striker will be forced out of the English game by continuing criticism.
Since his leaving his former club Ajax for the English Premier League and Liverpool precisely in January 2011 the forward player has had to endure so much and with the last game played by the Reds, there's no signs of them easing off.
Looking back, the Uruguay international was banned for eight matches last season after being found guilty of racially abusing Manchester United defender Patrice Evra, now he's been accused of diving which from some quarters a sending-off from the game would have been the only option.
Former Liverpool striker John Aldridge expressed his concern the 25-year-old could walk away from the club because of the hard time he gets from opposition managers and supporters but Rodgers rejected that.
And according to Rodgers "I think he loves playing in English football," said Rodgers of Suarez, who only signed a new long-term contract at the start of the season.
"I speak with Luis regularly and he loves the passion and excitement of the game over here.
"What he is a player who is mentally very strong – as you can see from his time here the amount of stick he has taken.
"It is actually a driver for him. It really motivates him and he loves being at Liverpool: he loves the city, the club and the supporters so I can't see that (being forced out) happening."
Suarez answered his critics, and more pertinently David Moyes with a sarcastic dive at the Everton manager's feet after his deflected shot brought the opening goal in Sunday's Merseyside derby draw.
Rodgers has been impressed by the way the South American has shouldered the burden of being the club's only fit senior striker and insists it is a privilege to coach him.
"I thought he was outstanding (against Everton). He is a breath of fresh air with his enthusiasm," added the Northern Irishman.
"He is our only fit senior striker here and he was tireless against Reading and then we had to play a strong team against Anzi (in the Europa League).
"People maybe thought the condition of the team and him in particular would waver but the condition of the group, and particularly him up front, was amazing.
"He is a wonderful talent who will always provoke comments both positive and negative but the bottom line is he is a fantastic player.
"He is goal scorer and his goals to games ratio this season is fantastic.
"He is really inspirational for the group because he works hard every day and he is quality at that top end of the field: he genuinely is a world-class striker.
"It is a privilege to work with a player of that quality every day."
After three tough games Suarez is likely to be given the night off tomorrow when Rodgers' former club Swansea visit in the Capital One Cup.
Liverpool, the defending champions, came through the last round with a 2-1 win at West Brom having fielded a team with an average age of 24 years 10 days, while seven of the 13 players used that night were under 22.
The Reds boss has admitted league performances are his priority and so the side he puts out in this competition will be shorn of first-team stars and tomorrow is no different.
But he intends to pay every respect to the club he left in the summer, insisting the close relationship he had with Swans chairman Huw Jenkins remains strong and that actually helped when he went back to buy midfielder Joe Allen.
"It improved the Allen deal as I was able to speak to Huw and ask if there was a market for Joe and he came back to me and told me there was a possibility he could be sold," he said.
"We became close both professionally and personally there and our relationship is still strong.
"Leaving there was sad but I knew I was coming to one of the biggest clubs in the world.
"We are not in contact as much – we would have spoken every day and had many great football conversations – but there is still that respect there and an admiration for the work they do.
"I always like to leave on good terms. There is no problem there.
"But we want to get through and nothing will get in the way of that.
"No sentiment gets in the way of wanting to progress to the next round."