30 civilians killed in Maiduguri military raid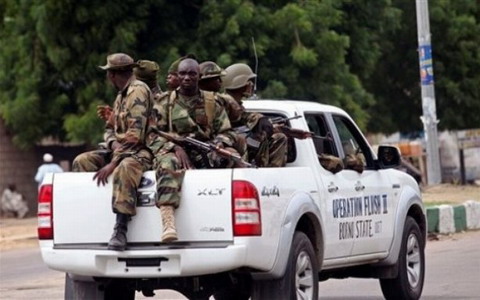 The Nigerian Army has allegedly killed 30 civilians during raids in Maiduguri to comb out members of the radical Islamist sect, Boko Haram, witnesses and hospital officials told news agency on Friday.
Three witnesses told Reuters that soldiers from the Joint Task Force (JTF) raided several neighbourhoods in Maiduguri, the Borno State capital late on Thursday and arrested or shot dead dozens of young men.
"More than 30 bodies were brought in by the JTF yesterday and most of them were young men," a nurse at one Maiduguri hospital Yagana Bukar told Reuters.
The military spokesman in Maiduguri did not respond to requests for comment.
"Yesterday around the Gamboru area, soldiers raided places with an insider who pointed to suspected terrorists and they just killed some of them on the spot and others were taken away," a civil servant who saw the attacks told Reuters, asking not to be named. He said he saw more than 40 dead bodies.
Amnesty International in a report released earlier on Thursday, accused the JTF of committing human rights abuses in its crackdown against Boko Haram that were fueling the insurgency.
The report said the JTF had carried out executions in the streets and tortured people without bringing any charges against them. Nigerian police said they would investigate the matter.
Meanwhile, Boko Haram had also on Thursday proposed to dialogue with the federal government and is planning a ceasefire before the commencement of the discussion.