Former British Prime Minister, Tony Blair and the Archbishop of Canterbury designate, Bishop Justin Welby, have both advocated religious tolerance as a panacea for peace and unity in the country.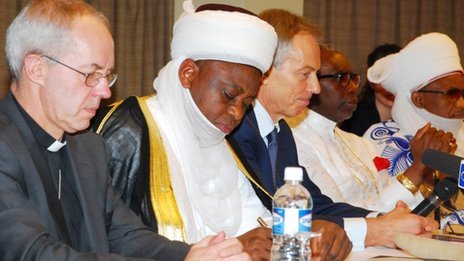 Blair who spoke at the launch of the Faith Foundation in Abuja called for the inculcation of the right values especially in the nation's youths.
He said that religious leaders at all levels must strive to ensure that peace and stability reign in the country.
Blair, who is the founder of the Faith foundation, was joined by religious leaders, government officials and other Nigerians at the meeting which was aimed on how to foster peace and development in the country.
The meeting commenced with an interactive session between Nigerian students and their counterparts from the United Kingdom through a video conference where they shared views on how to tackle issues of insecurity in the country.
The former Prime Minister maintained that the attitude of Nigerians at this point in time should be that of tolerance.
He went further to promise that his foundation will develop ways of engaging the Nigerian youths on how to embrace peace.
Religious leaders, led by the President of the Christian Association of Nigeria (CAN) and the Sultan of Sokoto, Dr Muhammed Sa'ad Abubakar III, also highlighted steps that must be taken to address issues of insecurity in the country.
"This is an important moment for us as a country. I believe in progressive dialogue. Dialogues where we can set goals and timelines" stated Pastor Oritsejafor.
He added that "to find great people coming from around the world to help us in this, is incredible" as he thanked Mr Blair, the Faith Foundation, Bishop Justin Welby and Prince Ghazi for "giving us practical things to help us work together."
The Sultan of Sokoto in his remark, stated that "the video conference between the students was an eye opener."
"What the children discussed captured exactly what we are trying to do. We need to understand one another. We need education to know what our religions teach us. We need to love one another like we love ourselves" he stated.
While assuring of government's commitment to protect lives and property, the Minister of Housing and Urban Development, Ms Ama Pepple said that Nigerians at all levels also have a role to play to attain peace.
The foundation hopes  to work with local Christians and Muslims faith leaders as well as young people to build sustainable peaceful co-existence through joint leadership, education and action on shared challenges, such as preventing deaths through malaria.
HRH Prince Ghazi bin Muhammad of Jordan were also at the meeting.