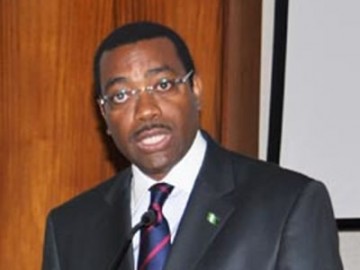 Minister of Agriculture and Rural Development, Dr. Akinwumi Adesina, has assured Nigerians that the country will not suffer any food crisis as a result of the flood disaster in some parts of the country.
Adesina in a statement on Sunday, noted that though the flood presented a huge challenge on food security in many parts of Nigeria, the country would not experience food shortage.
He said, "Let me assure you that the Federal Government is taking all measures to mitigate the impacts of the flood.  Nigeria will not have famine. We will not have a food crisis. We will recover from the flood.
"From our efforts this year alone, from maize, rice, cassava, sorghum, we are adding a total of 8.1 million metric tonnes of food to our domestic food supply. That is 70 per cent higher than the target of five million metric tonnes we set for 2013; and 41 per cent of the total target that we set for 2015.
"If we had not added the 8.1 million metric tonnes  of food to the domestic food supply, which provided a significant buffer, Nigeria would have seriously felt the impact of the flood. We will continue to work hard."
He urged Nigerians not to panic, stating that the International Water Management had been invited to help use sophisticated remote sensing and satellite imagery to determine the extent of the flood for effective control.
Adesina said, "We must avoid those that want to create unnecessary panic. There have been all kinds of figures in the media on the extent of damage by the floods.
"While we do not dispute that there are economic losses, some of the figures and information being used are not based on real data. If you believe all the figures being bandied, you would think that all of Nigeria is under water. That is simply not correct.  None of these statements are based on any real rigorous data and analysis.
"Those that want to flood our markets with cheap imported food, taking advantage of these panic statements, have started clamoring for waivers for food imports. Nothing is better business than the panic business.
"The estimated area for crop loss was 467,000 hectares.  We must have a sense of proportion. Nigeria's total cultivated area under crops is 40 million hectares of land. That means that the cultivated areas estimated to have experienced crop loss was only 1.17 per cent of the total cultivated crop area in Nigeria.
"Let us look at production loss. Even if we assumed an average yield of 2.5 tons per hectares, it means that the estimated crop loss would be about only 1.2 million hectares of production loss. These are all maximum loss estimates, using the satellite imagery and remote sensing data. It is clear that Nigeria's food security will not be compromised by the flood."