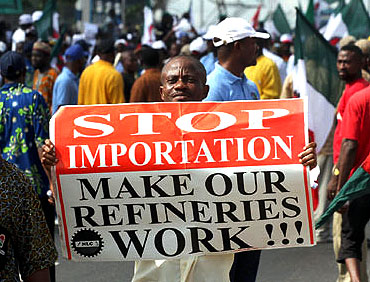 As Scarcity of petroleum persist in some part of the Country, The National Union of Petroleum and Natural Gas (NUPENG) charged the Federal Government to as a matter of urgency, put the nation's four refineries in a fully functional state, if fuel subsidy deduction is in the interest of the people.
NUPENG President; Comrade Igwe Achese was speaking to journalists in Calabar, Cross River state after their week long union meeting alongside the Petroleum and Natural Gas Senior Staff Association of Nigeria(PENGASSAN).
The oil and gas unions said only working and effective refineries can remove the incessant sufferings Nigerians are facing.
Igwe echoed that the only solution to the problem at hand is for the refineries in the country to be functional and effective and that is the position of the union on the matter.
The NUPENG President added that, if the president can not address the issues affecting the union and the nation as whole, the oil workers will be left with no other choice than to down-tools any moment.
PENGASSAN President; Comrade Babatunde Ogun also spoke on the need to improve on the ills in the oil and gas sector saying the insensitivity of government to listen to the union led the oil industry to the present situation it is presently, as most marketers have hiked the price.
Ogun remarked that corruption in the industry calls for proper scrutiny and called on the Federal Government to stop casualization and improve the security of the workers.
Other issues discussed included the unions support for the passage of the petroleum Industry Bill (PIB), deregulation of the downstream sector as well as assessment of the Removal of the fuel subsidy.