The Lagos State governor, Babatunde Fashola has continued his inspection of on-going projects across the state, reiterating the commitment of his administration to the safety of life even as he warned members of the public against encroachment on lands and properties belonging to the Government.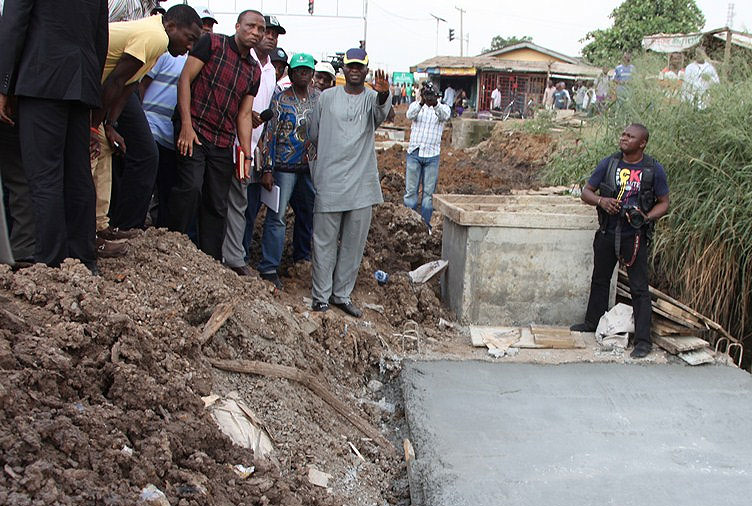 Mr Fashola, who began his inspection from the drainage projects along WEMCO Road, also inspected the Shogunro Scheme Phase 1 and 2 Lagos HOMS in Ogba, the Yaya Abatan/College Road Upgrading project in Ifako-Ijaiye, the Ogo-Oluwa Road Network project also in Ifako-Ijaiye, the proposed Digital Village (Katangowa), Amikanle, the Elere Channel and Ayinke House Upgrade in Ikeja.
Fielding questions from Government House Correspondents after the intensive inspection, the governor expressed dismay over the attitude of the people towards their environment, warning that the way people treat their environment today would affect everyone in future.
Pointing out that the responsibility of the government is to save life and property, Mr Fashola condemned the way people defecate and urinate on the bare ground, pour fuel, engine oil and other chemicals indiscriminately in the name of doing business. He also urged the utilization of cemeteries for burials as against burying the dead in residential areas.
"For me, it is not about doing business today. It is what will happen in 20 years' time. We are living in a way that we are abusing the environment. Simply because we want to do business, so we defecate on the road, we urinate, we pour engine oil and we pour fuel on the road because we are running okada business. Even we have to increase the use of cemeteries in burying our dead", the governor said.
Explaining that most of the wastes, especially organic wastes, being dumped indiscriminately would affect the underground water from which water is extracted when boreholes are sunk, Mr Fashola declared, "With all the chemicals going into the underground water, it, therefore, does not surprise me the incidence of strange diseases among the people today such as cancer, bronchitis, kidney failure and other strange ailments", adding, "Our environment is becoming increasingly toxic".
"So when Government says let us clean up the environment, we do so in a long term and the future interest of all of us. Our experts have advised us, we cannot continue like this", he said.
Also responding to a question on the demand for resettlement by people living on the site of the proposed Digital Village, Mr Fashola stated that his administration has kept a track record of resettling and paying compensation to people who have been displaced from their lawfully acquired property adding, however, that where people jump unto Government land illegally, they should not expect compensation or resettlement when such property is reacquired by government.
"As far as resettlement is concerned, I know it is difficult to find an example of a resettlement-oriented government like this Government. We did Isale Gangan redevelopment, we did Oluwole redevelopment and we resettled people. But in cases where people are squatters, they have no colour of rights", the governor said.
According to him, "The law does not protect illegality, it protects rights and you do not acquire rights by acting illegally. You don't jump unto government land and acquire a right there and begin to shout human right. Human rights are legal rights; they are not rights acquired by illegal conduct and we must understand this in a democracy".
Challenging anybody who claims to have been deprived of his legally acquired property by his administration without compensation to bring forward such claim, Governor Fashola declared, "All of the demolition we did to expand the Badagry Expressway, we are still paying compensation. The people we moved from Oshodi are going into a new market that is ready. We have intervened in Obalende, clearing Obalende without necessarily displacing the rightful owners".
"I hope that members of the public will understand that they can't acquire right by jumping unto the roadside and saying it is where they must trade. May be, it may be politically popular to agitate citizens who are not aware of what rights and obligations are. People escalate these things. Some people, some of those societies and organisations make profit and get grants at the behest of the so-called masses they claim to be fighting for. Masses don't have the right to break the law and if they do, we will enforce it", the governor said.
The governor who also spoke on compliance to law and order said there is no society where laws are not broken, stressing that from the facts at his disposal there have been increasing cases of complianceto law and order in the State.
"As we go on these tours, if we see people who break the law, we will stop, we will arrest them. Today, we have arrested a Policeman whom I am going to hand over to his Commissioner of Police and I am sure he is going to be prosecuted. So nobody is going to be above the law in this state", the Governor said adding,"Everybody must surrender and submit himself to the law in our State. If you cannot submit yourself to the law, then leave our State".
The governor, who gave a detailed rundown of his itinerary, said the work and inspection started from WEMCO in Ogba where the storm water drainage being constructed to discharge water from Ogba area down to the gorge at Odo-Iya-Alaro was inspected.
He said the drainage project in Ogba would be completed in March next year, adding that the team was also at Agege to inspect the Elere storm water drainage which is also an indicator of the preparations for next year's rainy season.
At the Lagos HOMs housing project at Ogba,Sogunro 1 and II., the governor expressed joy at the economic exchange saying there are about 800 people employed on the sites adding,"Ultimately, we are having over 240 apartments made up of 144 apartments on one side and about 80 plus on the other side. So, over 200 families will live in that area. Of course there is a lot of regeneration to be done as you saw."
Speaking on the Yaya Abatan, College Road in Ifako- Ijaiye Local Government, Mr Fashola recalled that during his first visit to the place in 2007, it was the issue of the drainage, the gorge and the erosion problem that commanded attention. "That problem has been solved, now, we are back to the road network and you have seen how we have opened up that road to connect Iju, you saw the local network of roads there, Lucas, Ogo Oluwa and about four other streets there which is the second side of what we did with Constituency one in the first term of the local network of roads", he said.
On Iju, Ajuwon and Katangowa where the State Government intends to relocate the Computer Village, Mr Fashola stressed that the Government intends making the place the State's technology centre disclosing that Government was already talking to computer manufacturers within and outside Nigeria and that there are so many brand names that are showing eagerness to come and invest there.
"It is going to be a major activity centre for industrial and warehouse production, retail repairs and everything related to information technology. It will serve as the information village for the whole State as it is originally designed in the Alimosho Master Plan which I have been talking about", the Governor said.
He said now the State Government was ready to move in to start work, adding that Government was also seeing the need to incorporate residential apartments into the plan.
On Amikanle where squatters encroached on government land, Mr Fashola said, "People just settle on government land, build without a plan, now they are asking we want roads, we want this, we want that. The development is so quick and is running ahead of this thing, but we have all of that in focus".
Speaking on the redevelopment and expansion of Ayinke House in Ikejainto a Maternal and Maternity Gynecological centre, Mr Fashola declared, "By the time we finish now, it is going to be a bigger and expanded version, much more upscale version of what Sir Mobolaji Bank Anthony donated to the State but would remain Ayinke House when we are done. It would however become the topmost referral centre for Gynecology, Maternal and infant obstetrics issues in the State".
"It will give a lot of relief to Island Maternity and Massey and it would complement the Maternal and Child Care centres at Ifako, Isolo, Ikorodu, Amuwo, Surulere and others where we have set up those 100 bed four-storey facilities, so it is a work in progress, development continues, the work continues", the Governor added.
Accompanying the governor on the inspection tour were members of the State Executive Council, including the Chief of Staff, Lanre Babalola, the Head of Service, Adesegun Ogunlewe, Secretary to the State Government Florence Oguntuase, Commissioner for Environment, Tunji Bello, Commissioner for Information and Strategy, Aderemi Ibirogba, Commissioner for Health, Jide Idris, Commissioner for Commerce and Industry, Sola Oworu, Attorney General and Commissioner for Justice, Ade Ipaiye (SAN) and Special Adviser on Works and Infrastructure, Ganiyu Johnson among others, Federal and State lawmakers representing the areas visited, local government chairmen and other top government functionaries.