The federal government says it would soon acquire 30 aircrafts to boost domestic airlines in Nigeria and to also cushion the high cost of air fares in airline business in Nigeria.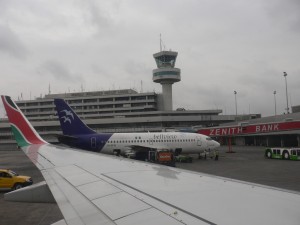 The General Manager, Corporate Communications, of the Ministry of Aviation, Yakubu Dati stated this in Benin City shortly after a tour to check the extent of remodelling and reconstruction work at the Airport in Benin City.
Answering questions on the safety of airplanes in Nigeria, Mr Dati said concerns in this area has led to removal of tariffs on aviation spare parts and that plans to purchase airplanes for the operators.
He said the Federal Airport Authority of Nigeria (FAAN) was bent on removing abandoned aircrafts across the country as it does not fit into the aviation Master Plan.
Explaining how the fund needed for the new aircraft would be sourced, Mr Dati said the federal government would purchase the airplanes through the aviation fund being managed by the Central Bank of Nigeria (CBN) and the Bank of Industry (BoI) as direct disbursement of funds was being abused
"This is to help domestic airlines operate profitably and make it attractive for investors because spare parts are a major cost component in the aviation industry."
He reiterated government's commitment to making the country's aviation industry a hub in the African continent. On abandoned planes across airports in the country, he said: "We have given the ultimatum for the owners of abandoned aircraft to remove them because they constitute menace to our airspace and airports.
"They are dangers to the flying publics because they may be places where these birds could hide. We have also discovered that some of the aircraft have litigation issues around them, some of them were used as collateral for loans.
"Such things are being handled by our legal department and as soon as those issues are resolved, the planes will be moved. We also try to advise owners that there are several creative ways in which they can use them. We are in the age of recycling and they are built with plastics and metals and that can be done profitably.
"But definitely, when the period we give elapses, FAAN will take action to ensure that we clear our spaces of abandoned aircraft because it does not fit into the aviation master-plan."
.