Nigerian Military Contingent Depart To Mali
First batch of 80 Nigerian military contingent to the African led international peace support mission in Mali have departed to Mali and the Chief of Army Staff has claimed the deployment enhance the federal government fight against Boko Haram.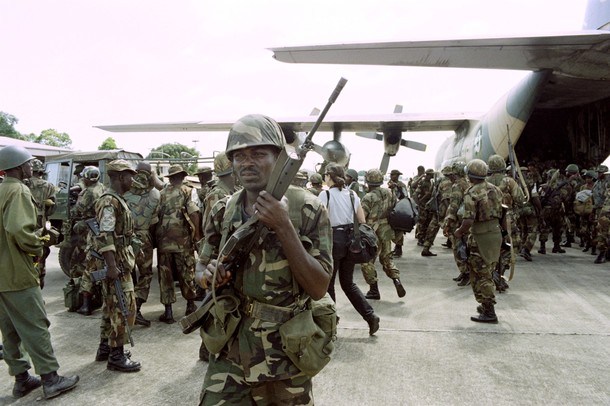 The soldiers departed at exactly 6PM, Thursday evening.
They were airlifted by a Nigerian Air Force cargo plane to Mali through the Kaduna international airport.
The remaining 826 are to be airlifted from tomorrow.
The Chief of Army Staff, Lieutenant General Azubuike Ihejirika, said the contribution of Nigeria in the restoration of peace in Mali will complement the federal government's efforts in the fight against Boko Haram insurgence in the country.
General Ihejirika who was addressing the first Nigerian battalion to African led international peace support mission in Mali, said the crisis in Mali which has become a global concern has attracted intervention from the international community.
He said that some of the members of Boko Haram sect had undergone training in Mali.
A total of 906 personnel of the Nigerian army had undergone a four week pre-deployment training at the Nigerian Army Peacekeeping Centre Jaji, Kaduna where they were trained on various skills ahead of the deployment.
The Nigerian soldiers will be joining troops from other countries, as part of an African force to fight against Islamist militants in the West African nation seeking to seize and overthrow the government.
The Chief of Army Staff, Lieutenant General Ihejirika charged the soldiers to stick to the rules of their engagement if they must succeed in the enormous task, which is necessary to aid the fight against Boko Haram in the country.
He also commissioned operational vehicles for the peace mission in Mali.
Peace Enforcers
The commandant of the centre, Major General John Zaruwa, noted that the training was designed to suit the operational environment while expressing confidence that the battalion will live up to expectation.
"They are not peacekeepers, they are peace enforcers. And they are trained to use all means including force to restore peace in Mali" he explained.
The Nigerian contingent are going to an unfamiliar terrain in Mali to face a versatile adversary who observers say are determined, well-equipped and well-trained.
In the light of this, many have raised fears about the adequacy of preparations towards the welfare of the families they have left behind.
But the Chief of Army Staff said there is no cause for alarm as he wished the soldiers good luck while in Mali. He also reminded them to be disciplined and make the country proud