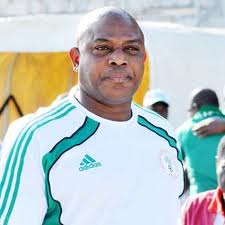 It was not an impressive opener for the Super Eagles in the Afcon 2013 after the squad gave out a late goal to settle for a draw against Burkina Faso.
Lesson learnt, Super Eagles coach Stephen Keshi has said he won't be closing his ears on the note of warning sounded by Nigeria's next opponent Ethiopia saying that addressing Sewnet Bishaw boys as a team not up to standard is wrong.
The Ethiopians have shown what they are made of after the squad with 10 men forced African champions, Zambia to a draw in Group C's opening game on Monday.
Keshi said the Ethiopians have proved why they ensured their qualification for the Afcon 2013 with their performance against the Zambians.
Keshi also admitted that his team will have to buckle up as it has now been proven that the Super eagles will be up against strong opponents in the group.
"There are no weak teams here, and Ethiopia showed that they deserve to be at the competition. The group is a strong one," said Keshi.
"The next game against Zambia is very important. We will put behind us the Burkina Faso game," said the Nigerian coach.
Meanwhile, Nigerians who are football lovers have complained of biased nature of refereeing against the Super Eagles claiming that it was an obvious move by the Angolan referee against the Super Eagles of Nigeria in favour of their opponents on Monday.
The Eagles were held to a 1-1 after the Burkinabe scored the equaliser 40 seconds to the end of the match in the on-going AFCON in South Africa.