The Kogi State Police command has arrested a 49 year old school principal, Mr. Christopher Ogbeun, for inflicting a high degree of burns on his 10 year old son, Stephen Ogbeun.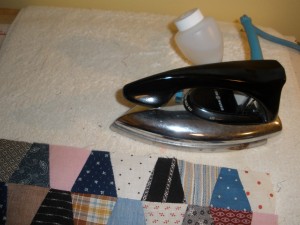 The young boy was allegedly abused by his father for destroying some of his vital office documents which were kept at home.
The state Commissioner of Police, Mr Mohammed Katsina, who disclosed this while parading the father at the Kogi state Police headquarters in Lokoja stated that it took the intervention of an ambush squad to save Stephen's life.
He revealed that his squad caught the suspect red handed as he tied up the boy's hand and closed his mouth before using the hot pressing iron on him.
According to an eye-witness, it was a pathetic situation at the state specialist hospital Lokoja where the boy is laying critically ill.
Victoria Ogbeun, the victim's sister who was at home when the incident occurred confirmed that her father had indeed used a hot iron on young Stephen.
Mr. Ogbeun, the assailant, stated that his vicious act was an effort to make his son confess to a misdeed.
He claimed to have discovered that his son had destroyed a letter of approval from the West African Examination Council (WAEC) and so in an attempt to make him own up, he employed the use of the hot pressing iron.
Mr Ogebeun will be charged for unlawful detention, inflicting injuries on the boy and attempted murder.