Former Big Brother housemate and friend of the late Goldie Harvey, Prezzo has taken to his Facebook page to express his pain by writing a poem in honour of the late pop star, who passed away on Thursday Night.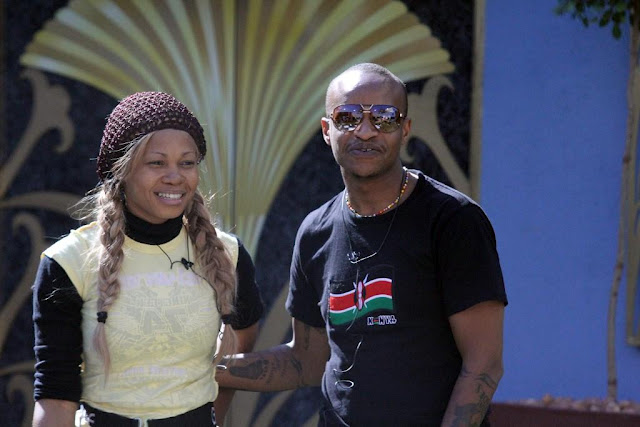 He wrote:
"God saw you were getting tired, and a cure was not meant to be
So he put his arms around you, and whispered come with me
With tearful eyes we watched you, as we saw you pass away
Although we love you deeply, we could not make you stay
Your golden heart stopped beating, hardworking hands at rest
God broke our hearts to prove to us…
He only takes the best"
Also, reports have it that Prezzo is expectd to be in Nigeria following the news of Goldie's death.
According to NET who confirmed this from Prezzo's friend Shaffie Weru, who spoke to Prezzo's mum said her son left for Nigeria on Thursday night after getting the news of Goldie's death.
Meanwhile another former housemate Millicent Mugadi has said it's difficult for her to digest the news of Goldie's death.
'Later in the day I will organize together with a few friends to have a private mass to remember Goldie. May she rest in peace. I still cannot digest the news', she said.
Other friends in the entertainment industry have expressed their shock and paid their tributes.
Mercy Johnson: Waje ooooooo, am so broken, remember we all did dinner before d wedding, awww Waje, am hurt.
Waje: Am so hurt,so hurt.RIP my dear friend GOLDIE.
Kalu Ikeagwu: Goodnight Goldie. Go rest after all the day's work.
Audu Maikori: Honest I do not even have the words to describe how distraught I am with the news of Goldie's death! Gods will be done. We mourn her deeply.
Seyi Law: Thank you Lord for the Gift of Life…RIP Goldie Harvey, you'll be greatly missed!
Lami Phillips: "The more i know;the less i understand" God keep your soul Goldie. Oluwa sanu fun wa.
Linda Ikeji: Finding it so difficult to sleep. Scared of closing my eyes. Young, vibrant people aren't supposed to die so suddenly. RIP Goldie
Darey Art Alade: So sad hearing about Goldie…? big dreams gone just like that? Go well dear… Let's celebrate her life #RIPGoldie
Stella Damasus: Rest in peace Goldie. We will miss you dearly. God grant your family the strength to bear the loss. It is well.
Terry Tha Rapman: God rest your soul, Goldie!
Banky W: My Goodness… i Just heard some terrible news.. RIP Goldie Harvey… wow. Lord bless her soul & have mercy on us all. 🙁
Keitta Ossei Massai: Goldie! R.i.P! God be with you!