29- year old model Amber Rose on Thursday night welcomed a baby boy with her fiancée Wiz Khilifa .
The happy father took to the social media platform Twitter to announce the birth of their son named Sebastian.
He posted: "Happy Birthday Sebastian "The Bash" Taylor Thomaz!. Everyone welcome this perfect young man into the world."
His fiancé also took to Twitter to share her joy with fans.
She tweeted: "Happy Birthday to our baby boy Sebastian "The Bash" Taylor Thomaz! I'm so happy u guys I fell in love all over again! :-)"
Wiz later posted a picture of himself on Instagram entitled 'Daddy time' wearing blue scrubs following the birth of the couple's son.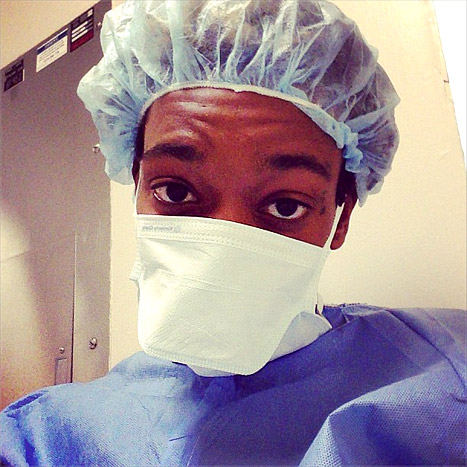 It was speculated that Amber was ready to pop last week after she revealed on Twitter that she would be taking a break from Twitter to focus on the imminent birth.
She wrote: "Hey Rosebuds & Rosestuds Muva won't be back on twitter until Wizbud is born I need 2 meditate & focus on our Lil boy Luv u talk soon – Muva (sic)."
Following the birth of Sebastian, the couple will be looking ahead to planning their wedding.
Wiz previously admitted: "It makes more sense for the baby to be in the wedding than for her to be pregnant,' said Wiz. Some people, they rush and do it, but it works both ways."