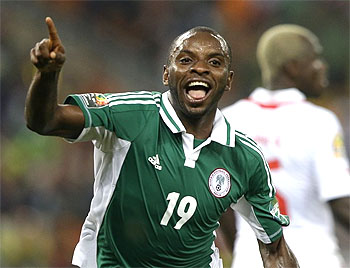 The Nigeria Premier League has waded into the on-going feud between Warri Wolves and Enugu Rangers over the ownership of Sunday Mba and Chigozie Agbim by ruling that the Super Eagles duo belong to Warri Wolves.
Enugu Rangers is laying claim to Mba, insisting he has always been their player and had been training with them before the 2013 Nations Cup in South Africa.
However, in a letter signed by the executive secretary of the NPL, Tunji Babalola, Mba and Agbim have been declared as players of Warri Wolves.
The league interim management committee has, therefore, asked any club interested in the players to contact Warri Wolves.
A tussle arose between Warri Wolves and Enugu Rangers over the ownership of the 24-year-old Eagles midfielder since foreign clubs started showing interest in the player after the Afcon 2013.
Spokesman of the Warri-based professional football club, Moses Etu, said on Sunday that the Delta State-owned team was not ready to join issues with Rangers on the player as Mba knew he had a two-year contract with Warri Wolves.
"Sunday Mba has only spent one year out of the two-year contract he signed with us. It is on the basis of this that we are giving him up till Friday, March 1 to return to our camp ahead of the new football season we are preparing for," observed.
The Warri Wolves media officer hinted that the matter has been reported to the Nigeria Football Federation.
"We have absolute confidence in NFF believing that they will follow the path of justice. We have the documents signed by Mba and requests by Rangers for us to clear the players for them which we refused to do," he said.
"We have also written the NFF to apply the relevant sanctions regarding inducement and misleading of the public by Rangers International on this matter."
Etu further warned that Warri Wolves would not hesitate to report the matter to the Confederation of African Football (CAF) and the world football governing body, FIFA if need be.
"We have confidence in NFF but we won't hesitate to take the matter to CAF and FIFA. Rangers can be banned from further participation in the CAF Champions League while the player faces the prospect of being banned for years," stressed the club spokesman.
Although some foreign clubs are said to be making enquiries on how to sign the Super Eagles players, the current ownership struggle between the two NPL clubs may scuttle such moves. Warri Wolves last week placed a one million euro transfer tag on the player now under dispute.
The defender rose to stardom after he scored two goals for Nigeria at the Nations Cup, which put Nigeria in reckoning and ultimately claiming the 2013 Afcon trophy.
Now the hitherto unknown local player is now the talk of several transfers within European clubs.