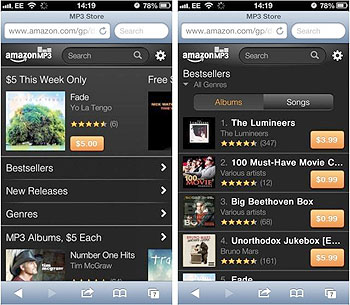 Amazon today launched its Cloud Player app for the Apple iPad and iPad Mini, expanding the online retail giant's footprint for its music streaming programme.
According to cnet.com, the app allows customers to stream or download music stored in Amazon's cloud, play music already stored on the device, and manage or create playlists.
A quick check by CNET shows iPad users also can purchase songs from Amazon through the Safari Web browser like they can on iPhones and iPod Touches. In the past, iOS users were able to access Amazon's apps but weren't able to purchase items from Amazon. That's largely because of an Apple rule designed to make sure it gets its 30 per cent cut on all sales apps generate.
We'll bring you more update on it as it comes.
Getting its Cloud Player on as many devices as possible is important for Amazon's strategy. While the company makes its own hardware, it makes more money from selling books, music, movies, and other products and services. While iOS users can't purchase items directly from Amazon's apps, being able to access the content via Apple devices at least broadens Amazon's potential user base.
"Our goal is to make Cloud Player the most widely compatible cloud playback solution available, giving our customers the ability to buy their music once and enjoy it everywhere," Steve Boom, vice president of digital music for Amazon, said in a press release.
`