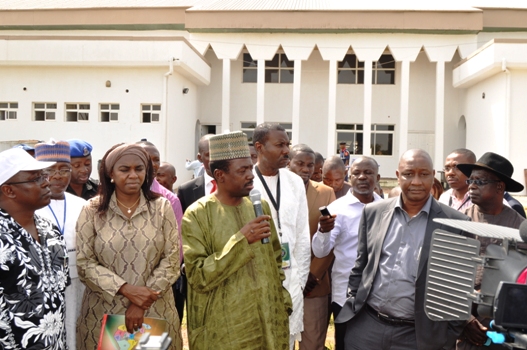 The Secretariat of the National Good Governance Tour (NGGT) has said that it views with concern and deep regret the statement credited to Lagos State Governor Babatunde Fashola, who has described the on-going tour as ill-conceived.
In a statement signed by the coordinator, Samuel Ajayi, NGGT said "it must be shocking to all who are familiar with how the tour was conceived, and is being implemented, that it has taken Governor Fashola nearly six months to dissociate the Lagos State Government from the Tour."
Governor Fashola had claimed that the National Good Governance Tour was designed "in an attempt to appear busy" and that they (Federal Government) "have no project to inspect.
The group also noted that Lagos State was duly represented by the Deputy Governor, Mrs. Adejoke Orelope-Adefulire, on the committee set up by the Nigeria's Governors' Forum, to ratify the template for the tour whose final framework was approved by all state Governors without exception.
It however reiterated that the tour is a non-partisan undertaking involving the leaderships of the Nigerian Union Journalists (NUJ) and Radio Television and Theatre Workers Union (RATTAWU); leaders of women and youth organisations; non-governmental organisations; representative(s) of the Nigeria Governors Forum Secretariat; and reporters from the nation's print and electronic media.
The statement also noted that the federal government is not a rival of states neither is it in competition with states. Its role it insists is to formulate policies in partnership with states and help partner with states to provide infrastructure for the development of the country.
According to the NGGT, "We would like to restate that the Tour is not being forced on any state. But where any state chooses not to participate, it can opt out of the tour without blackmailing the Tour Team and in the event of any state opting out, the Tour Team will proceed regardless to inspect Federal projects, which are spread across the country".
The tour team has so far visited 15 states in the North-central, South-East and the South-South Geo-political Zones and the FCT since September 2012.