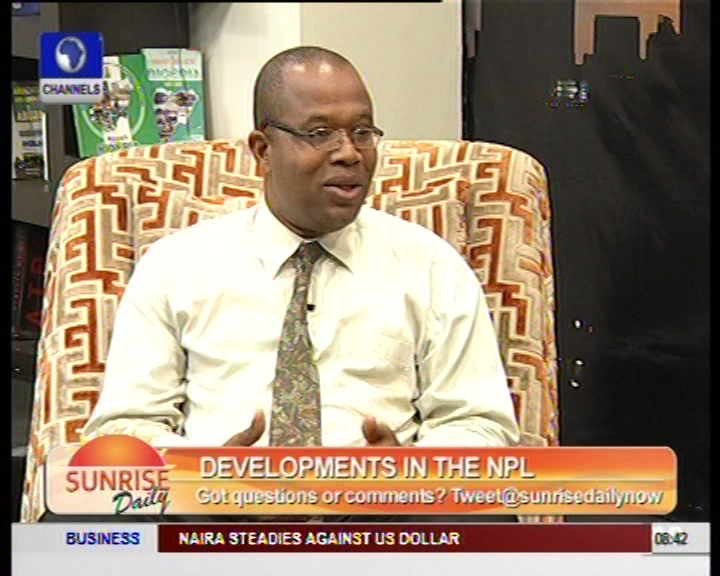 The Roving Editor for The Sun Newspaper, George Aluo has blamed the current controversy surrounding Sunday Mba's ownership on lack of proper documentation, which he describes as the 'Nigerian factor.'
Speaking on our breakfast programme Sunrise Daily, on Monday, Mr. Aluo attributed the cause of the dispute between two Nigerian Football Clubs, Rangers and Warri Wolves over which team owns Super Eagles' midfielder, Sunday Mba, to the fact that the player's movement was not properly tidied up.
Mba, who scored the winning goal that brought the AFCON 2013 trophy to Nigeria after 19 years, was sold to Warri Wolves by Dolphin, another club which had the player on loan from the Rangers, his (Mbah's) original club.
"Things were not thoroughly done by all the parties involved," Mr. Aluo said, blaming the clubs involved for 'cutting corners.'
He also expressed surprise over the announcement made by the League Management Committee (LMC), Nduka Irabor, who declared that the player belonged to Warri Wolves.
Mr. Aluo, also pointed out that the whole brouhaha is as a result of Mba's sudden success. He urged the LMC to invite the clubs for a round table discussion and that Mbah's interest should be taken into consideration before a final decision is made.
Mbah has signed with the Rangers for the new season and is expected to play for the club as they will be representing the country in the forthcoming CAF Champions' League.