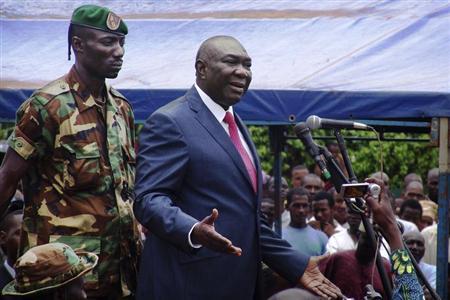 Central African Republic's new leader Michel Djotodia announced a caretaker government on Sunday in which he is defense minister, according to a statement issued by his spokesman.
The new government, which is due to hold elections in the mineral-rich former French colony within three years, will retain civilian opposition representative Nicolas Tiangaye as prime minister.
Djotodia toppled President Francois Bozize on March 24 after leading thousands of his Seleka rebel fighters into the riverside capital Bangui, triggering days of looting and drawing international condemnation.
The African Union suspended Central African Republic and imposed sanctions on Seleka leaders, including Djotodia, last week. France and the United States say the rebels should adhere to a power-sharing deal signed in Gabon's capital Libreville in January that mapped out a transition to elections in 2016 in which Bozize was forbidden from running.
Djotodia has pledged to act in the spirit of the agreement and said on Friday he would step down in 2016. But Washington on Saturday said Tiangaye, named premier under the Libreville agreement, was now the only legal head of government.
Bozize seized power in a 2003 coup, but his failure to keep promises of power-sharing after winning disputed 2011 polls led to the offensive by five rebel groups known as Seleka, which means "alliance" in the Sango language.