Wolves Not Mandated To Sell Mba To Rangers – Official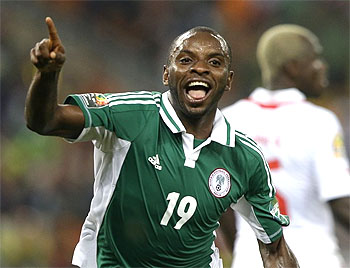 [highlight]It appears that all is not well after all concerning the transfer of Super Eagles player Sunday Mba and Chidozie Agbim as an official of Delta club; Warri Wolves said the club will not be forced to sell Sunday Mba to Enugu Rangers where the player presently is.[/highlight]
According to Amaju Pinnick, the dictates of the Nigeria Football Federation does not hold water anymore in the matter as the federation is trying to dictate who they will sell Sunday Mba to, which is null because the same federation declared that Warri Wolves Officials is the rightful owner of the player so it the right of the Delta club to sell the player any club they desire to do work with in terms transfer.
Warri Wolves have also threatened to take the matter a step further by going to the Court of Arbitration on Sports in Lausanne, Switzerland if the outcome of the Federation's pronouncement is not in their favour.
The Nigeria Football Federation (NFF) has however ruled in favour of Warri Wolves  as it confirmed that Super Eagles' duo of Sunday Mba and Chigozie Agbim belong to Warri Wolves and that that any club who is interested in the services of the two players should go and negotiate with Warri Wolves.
The two Nigeria professional league clubs Warri Wolves and Enugu Rangers have been at logger heads over ownership of the Mba and Agbim.
NFF President, Aminu Maigari could not hide his disappointment and that of the federation on the failure of both clubs to resolve the matter several weeks after they had the latitude to put the players' career back on track.