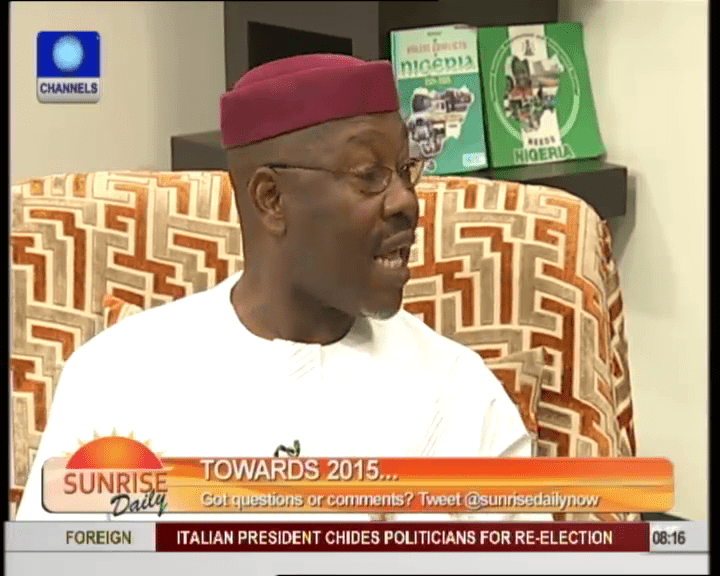 Ahead of the 2015 general elections, a member of the People's Democratic Party (PDP), George Ekeh has labeled the yet-to-be-registered All Progressives Congress (APC) as a party without ideology and just another political party seeking to grab power for their selfish interests.
"I have always said that they are simply coming to grab power… forget about all those progressive definitions" he said.
Ekeh accused the merging opposition parties of "Trying to elbow PDP out and then take over power".
Ekeh, who was speaking as a guest on Sunrise Daily, a breakfast programme on Channels Television, wondered if the merging parties will be registered with the name APC after another group claimed possession of the acronym long before now.
He however said "what is in a name if their intention is right", pointing to the fact that the figures in the opposition are the same.
"The people who people the parties are the same.. For purposes of emphasis they are the same. The only way you can know is that you can see how people meander from this party to the other one. The moment you don't have the platform to contest in this party, you end up in another one" he continued.
Ekeh said for the PDP to survive they should be able to send Trojan Horses into the camps of other political parties, as it is a strategy that will help confuse the opposing camps.
He also wondered why the National Leader of the Action Congress of Nigeria (ACN) would oppose the formation of the PDP Governors Forum as there are other issues he needs to contend with within the ACN and APC.
On the issue of ideologies in Nigerian political parties, Ekeh said "the issue of ideology does not exist".