Boston Marathon bombing suspect Dzhokhar Tsarnaev has been moved to a prison at Fort Devens, Massachusetts, from the hospital where he had been held since his arrest by police a week ago, the U.S. Marshals Service said on Friday.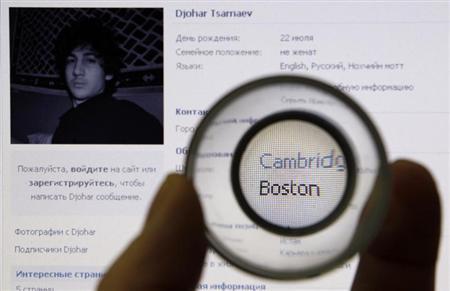 The 19-year-old ethnic Chechen, who was badly wounded in an overnight shootout last week with police hours after authorities release pictures of him and his older brother, also a suspect, had previously been held at Beth Israel Deaconess Medical Center, where some of the victims were also being treated.
His older brother, 26-year-old Tamerlan, died in that shootout.
Tsarnaev on Monday was charged with the April 15 bombing, which killed three and wounded 264 at the finish line of the Boston Marathon.
"The U.S. Marshals Service confirms that Dzhokhar Tsarnaev has been transported from the Beth Israel Deaconess Medical Center and is now confined at the Bureau of Prisons facility FMC Devens at Ft. Devens, Mass.," said U.S. Marshals Service spokesman Drew Wade.