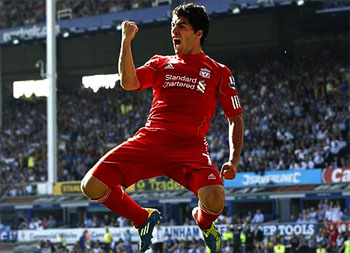 Liverpool manager Brendan Rodgers criticised the English Football Association (FA) for punishing the man rather than the incident after striker Luis Suarez was given a 10-game ban for biting Chelsea's Branislav Ivanovic.
Rodgers compared the punishment meted out on Suarez to two other biting incidents, including one involving England striker Jermaine Defoe.
He said that Suarez acted impulsively and said the club would help him to make sure there would be no repeat.
Meanwhile, Suarez is yet to lodge an appeal against the 10-match ban as he was given till Friday 1100 GMT to lodge an appeal.
It would be recalled that the 26 year old Liverpool striker  was suspended on Wednesday after he was shown to have bitten Chelsea's Branislav Ivanovic on the arm during Chelsea-Liverpool weekend clash.
With the ban placed on the striker, Suarez will be out of action for Liverpool for the rest of the season and the first six games of next season.
Suarez is the second top scorer with 23 goals in the English Premier League behind Manchester United's Robin Van Persie.