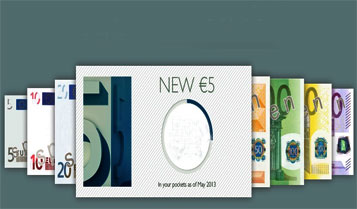 The European Central Bank issued the new five euro bill in Bratislava, Slovakia shortly after the ECB lowered interest rates by 0.25 percentage points.
The new bill is the first of the "Europa" series after the five euro banknote was officially unveiled by ECB President Mario Draghi in Frankfurt on January 10, 2013.
According to the ECB, 'the new banknotes are to be introduced gradually over several years, in ascending order. The denominations remain unchanged: €5, €10, €20, €50, €100, €200 and €500."
The Germany head of the anti-corruption organisation Transparency International and the president of the German tax payers association recently demanded in newspaper interviews to abolish the €500 bill which, according to them, facilitates money laundering, corruption and tax evasion.