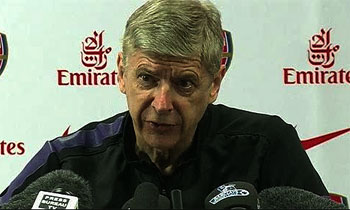 Arsenal coach Arsene Wenger has once again said he will be honouring his contract with the Gunners.
This he said during a news conference while reacting to a speculation that the 63 year old Frenchman is in a contract romance with Paris Saint Germain (PSG) that he is likely to leave the English club saying he had no intention of leaving Arsenal.
"I answered that question already, no, I respect my contracts," he said.
"Every football game excites me and football in general excites me and the love for this club as well.
"I want to stay if I do well, and if I consider and the club consider that I do well, that's all. I want this club to do well, and that is my basic feeling."
Arsenal's move from Highbury to the larger Emirates Stadium while maintaining a place in the Champions League against clubs with huge transfer budgets has proved challenging but Wenger believes the club are now in a much healthier position for the future.
"We have gone through a period that was very sensitive, the club is coming out of it now in a much stronger position financially and I believe that the club is in a very strong position for the future. For the rest my own person is less important, what is more important is the future of this club," he said.
With Manchester United already crowned champions and Manchester City seemingly assured of second place Arsenal are vying with Chelsea, Tottenham Hotspur and Everton for a place in the Champions League.
Chelsea are third in the final automatic Champions League spot with 65 points, one ahead of Arsenal who have one game less to play and three ahead of Spurs, who have the toughest run-in on paper as they visit Stamford Bridge on Wednesday in what could prove a decisive fixture.
Fourth is worth a Champions League playoff spot.
Wenger believes that the Gunners must maintain their focus to continue their good recent form.
"The most important thing is just not to lift your head, just focus on your job and continue our strong run. We have built up a strong run, put a strong run together and we want to use this belief in a very positive way," he said.
Wenger pointed to Arsenal's performance in the Champions League against Bayern Munich as a pivotal moment, after losing 3-1 at home they won 2-0 in Munich to lose out on the away goals rule.
"We've had to rebuild the team in the last two seasons, we lost some massive players and we have moved forward, for me, in the second part of the season considerably," he said.
"We have gone out against Bayern Munich on away goal and they just thrashed Barcelona by seven goals so I have to consider that we have moved forward."
Arsenal face a trip to already relegated Queens Park Rangers on Saturday as they chase a 16th consecutive appearance in the Champions League.
"We go game by game and every game gives you a different proposal that you have to sort out. We are highly focused on tomorrow's game and on our performance and everybody's really focused and wants to do well in tomorrow's game, that's what we of course want to achieve," said Wenger.