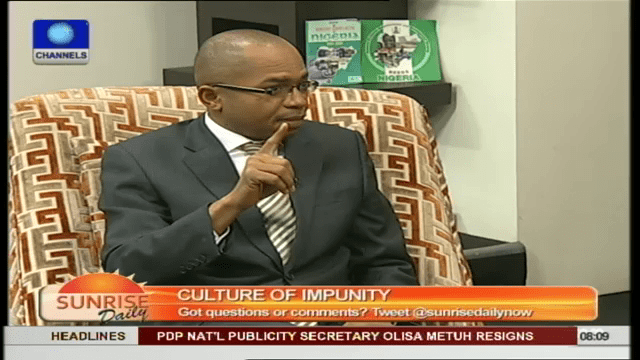 A legal practitioner, Mr Chukwuma Ezeala today blamed the military for orchestrating the culture of impunity in Nigeria.
Ezeala, who traced the existence of exempting some persons from punishment to 1960, was speaking on Channels Television's breakfast programme, Sunrise Daily.
"It is very prevalent; it has been existing since 1960 till date. If you recall from the government of Tafawa Balewa then into the military".
He pointed to the Bababngida regime as the main culprit "The military seem to have orchestrated it. Like during the Babangida regime, it became a culture, it became almost a way of life".
He however commended the regimes of late General Murtala Mohammed and General Muhammadu Buhari for trying to stop the act.
He described as "unfortunate" the return of democracy in 1999 through a military in civilian clothes.
Citing the abduction of former governor of Anambra state and now Senator Chris Ngige and how his then abductors have gone unpunished.